Dear Friends,
This coming Tuesday, July 25th, we have our first official Dignity Grows Packing Party! Our latest program, Dignity Grows provides free hygiene products to neighbors in need while honoring the recipients' dignity. At this upcoming packing party, volunteers of all ages will put together individual kits each with a month's worth of hygiene products, to be distributed through the Amherst Survival Center. We will also have a certified kosher ice cream sundae bar, courtesy of Herrell's Ice Cream and Bakery. To learn more about volunteering, partnering, or making in-kind/cash donations to our Dignity Grows program, please visit jewishwesternmass.org/dignity-grows.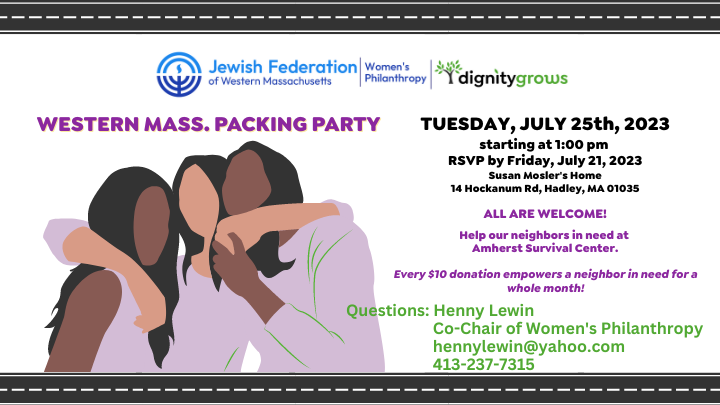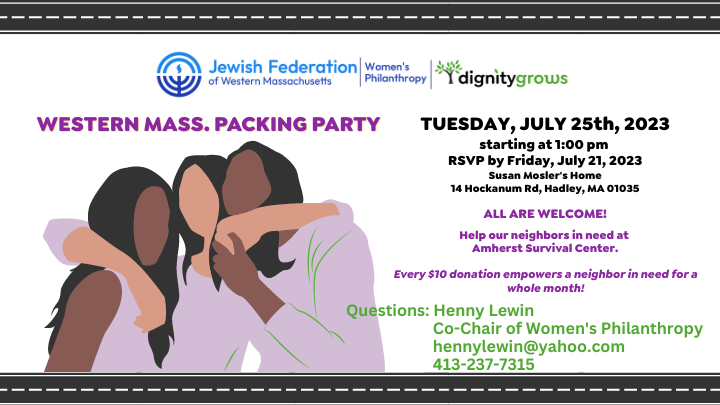 While renovation efforts continue at the Springfield JCC, I am excited to share that our Federation office has been undergoing some change as well! While we expect the phases of this "facelift" to continue over the next few months, we have started the process by removing some of the old furniture and equipment and look forward to making better use of our existing space in the weeks ahead. If you are interested in lending a hand, please reach out to Operations Officer Ellie Sesko at esesko@jewishwesternmass.org.
In addition, registration is now open for Ride to Provide 2023, and I hope you will take a few moments to register to participate! This event brings together families, individuals, and organizations from across Western Massachusetts (and our partners in Israel and overseas) to raise money for the many needs of our community and partner organizations. Your support is crucial, and we look forward to your participation in any capacity!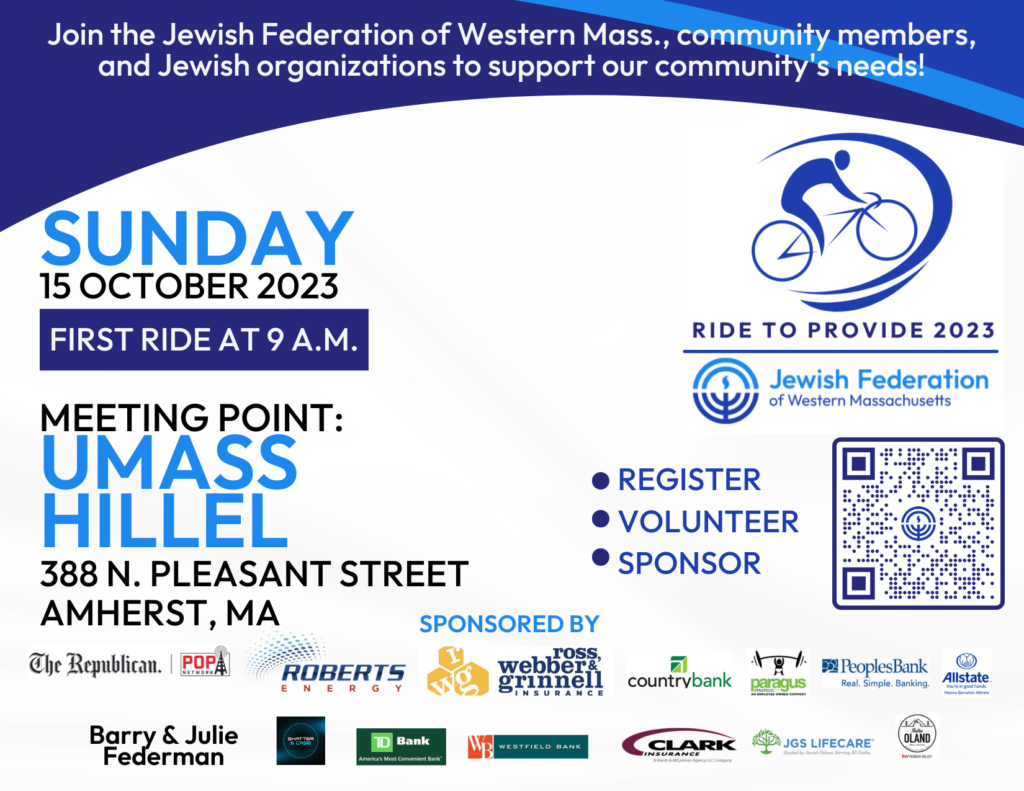 We also have another wonderful community event coming up on Sunday, July 30: Breakfast with the Soldiers, from 10-11:30am. You can click here to register.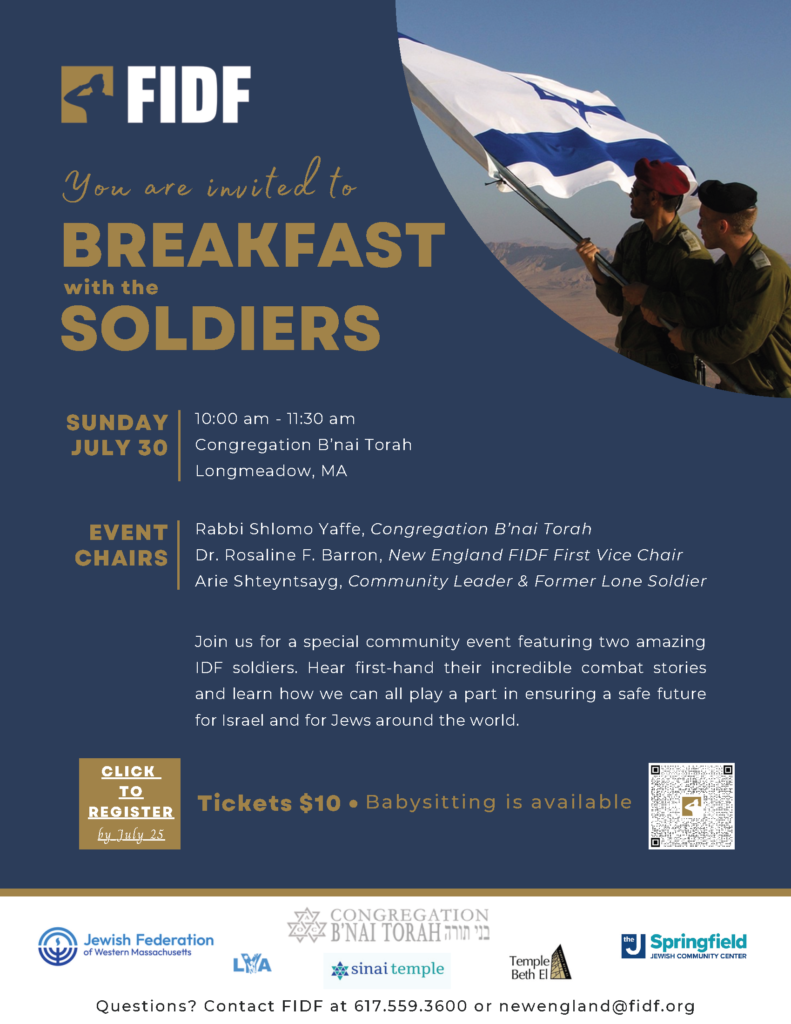 Shabbat shalom,

Nora Gorenstein, CFRE
Chief Executive Officer
Updates from our network, the Jewish Federations of North America:
On Wednesday, President Isaac Herzog addressed a joint session of Congress, where he was warmly welcomed and received by loud applause and standing ovations, reflecting the deep bond the two nations share. It was only the second time, after his father Chaim Herzog, that an Israeli president addressed Congress. We are honored that several Federation leaders were present for this momentous event. Last night, UJA-Federation NY hosted a gathering in the President's honor. Jewish Federations value our long friendship with the President and First Lady. Please see our statement here.
Just ahead of President Herzog's address, the House passed a resolution by an overwhelming majority affirming its support of Israel and rejecting all forms of antisemitism. President Herzog also met earlier in the week with President Joe Biden, who told the former that the United States' commitment to Israel is ironclad.
This week, the Knesset moved closer to a vote on the controversial Unreasonableness Clause that could clip the power of Israel's Supreme Court to strike down government decisions. In response, tens of thousands of Israelis have taken to the streets to protest the bill and voice their concerns at what they say is a threat to Israel's democratic character. Prime Minister Benjamin Netanyahu, on the other hand, argued this week that the bill would "strengthen" Israel's democracy, presumably by limiting the ways in which the Supreme Court can overrule decisions of the elected majority in the Knesset and the majority's appointees throughout the government. See here for information about the demonstrations and other forms of protest against the proposed law. A final vote is likely on the bill in the upcoming week. 
In Washington, President Biden expressed his own concerns about the possible changes when he spoke by phone to Prime Minister Netanyahu and again when he met President Herzog at the White House. Read some background on the bill here and see here to read arguments on why many feel the proposed law could diminish the checks and balances of the Israeli system of government. Jewish Federations' Resource Page on this and similar issues can be found here.  
Earlier in the week we issued a letter to Secretary of State Antony Blinken and Secretary of the Department of Homeland Security Alejandro Mayorkas urging for the inclusion of Israel in the Visa Waiver Program, which will help advance cultural, business, tourism and educational ties between the two countries. The letter was signed by 121 Jewish Federations, Jewish Community Relations Councils, and network communities. We are pleased to see progress on this front, as later in the week the U.S. and Israel signed an MoU on the extension of reciprocal privileges in the waiver program.
Finally, a broad group of national Jewish agencies led by the New Jersey Jewish Federations held a meeting with the State Department Office of the Special Presidential Envoy for Hostage Affairs to receive a briefing about Evan Gershkovich's case and hear what our community can do to bring him home from wrongful detention. Evan is a Wall Street Journal reporter who was detained by Russia under espionage allegations almost four months ago. In May, Jewish Federations issued a letter to Secretary Blinken to do all he can to bring Evan home.