Dear Friend,
It is with a mixture of grief and gratitude that I reach out to you today. Over the past week and a half since the tragic loss of my younger sister Hannah Rae Levy, I have been deeply touched by the overwhelming love and support from our incredible community as we mourned her passing and gathered to observe shiva. I have found comfort in the genuine warmth and care that has surrounded my family during this challenging time, and take solace in the knowledge that we are not alone.
There have been other terrible losses in the past week, not only beloved individuals but also devastation caused by the recent weather and flooding. Through all of this tragedy, our community stands as a beacon of strength and unity, providing unwavering support in times of sorrow.
One beautiful phrase I learned a few weeks ago from Momentum is "unity without uniformity." Here in Hampden, Hampshire, and Franklin counties our Jewish community encompasses a wide spectrum of beliefs, practices, and identities from multi-faith families, to cultural Jews, to daily shul-goers. While we have many differences, we can all come together for mutual support and care.
With the approach of Shabbat, a time for rest, reflection, and connection, I invite you to join me in embracing the power of compassion and generosity, perhaps by giving tzedakah, volunteering, or checking in on your friends, family, or neighbors. During these times of profound loss, my sincere hope is that we draw inspiration from the spirit of Shabbat, allowing its embrace to guide us towards acts of kindness and empathy. Together, let us embody the wisdom and warmth that define Jewish heritage.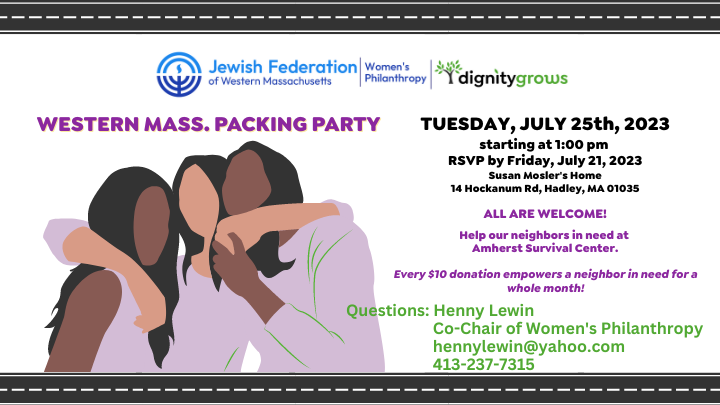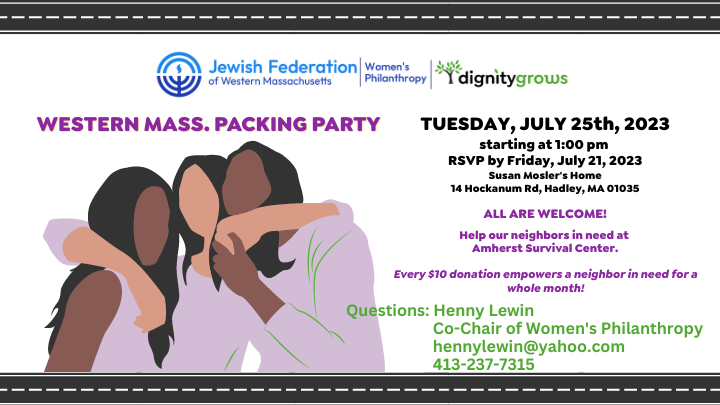 In community-wide news, we would like to remind everyone about the upcoming Dignity Grows Packing Party happening on July 21st, 2023! As you may know, Dignity Grows is our latest program, which provides free hygiene products to neighbors in need while honoring the recipient's dignity. At this upcoming packing party, volunteers of all ages will put together individual kits each with a month's worth of hygiene products, to be distributed through the Amherst Survival Center. We will also have sundae ice cream bar, courtesy of Herrell's Ice Cream and Bakery, which is certified kosher. To learn more about volunteering, partnering, or making in-kind/cash donations to our Dignity Grows program, please visit jewishwesternmass.org/dignity-grows.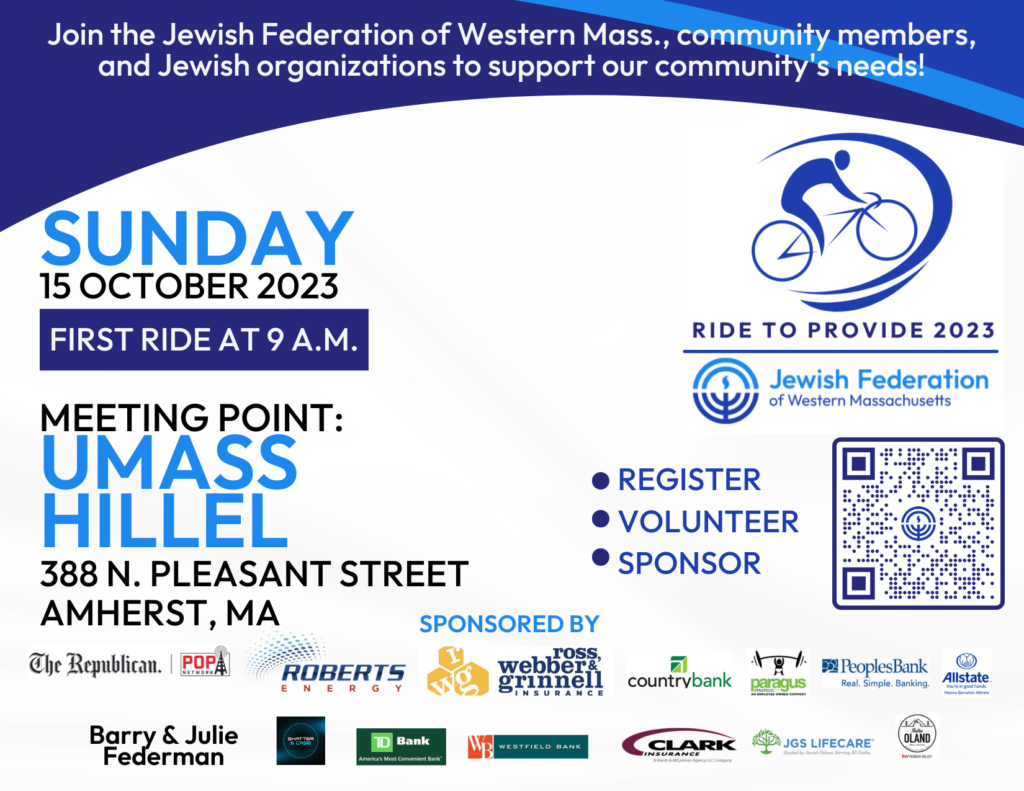 May your Shabbat be filled with solace, reflection, and a renewed sense of purpose.

Shabbat shalom,

Nora Gorenstein, CFRE
Chief Executive Officer
Updates from our network, the Jewish Federations of North America:
Protest groups in Israel mounted a massive "Day of Resistance" in Israel on Tuesday to protest the government advancing a provision of its controversial judicial reform overhaul. The policy would bar judges from overturning decisions by elected officials on the grounds of their being "unreasonable." Please see the Jewish Federations statement and read the latest update from our Israel office for more information.
With the war in Ukraine continuing unabated, Jewish Federations are boosting our collaboration with Chabad's Jewish Relief Network Ukraine. A delegation from Jewish Federations met recently in Ashkelon, Israel with representatives of the network and toured a school and facilities that houses the children who were airlifted in March of 2022 from an orphanage in Zhitomir, Ukraine. For more, click here.
A group of 130 olim (new immigrants) from Ethiopia arrived in Israel on Wednesday, marking the end of the second phase of Operation Tzur Israel. Jewish Federations were proud to see them reunited with family members who many had not seen for decades. For more, click here.
Also this week, The House Appropriations Committee proposed a dramatic increase of funding for the office of the State Department's Special Envoy to Monitor and Combat Antisemitism. The $2.5 million proposal is significantly more than what both the White House and a bipartisan group of lawmakers had requested. To read the statement, click here. For the coverage in the Jewish Insider, click here.
Jewish Federations are spearheading an effort to get Congress to expand kosher and halal options in federal feeding programs. This will increase the availability of these foods in schools, hospitals, senior facilities, and other institutions. Met Council will sponsor a listening session and discussion on this issue on Thursday, August 10 at noon ET. Click here to register.
Finally, in this week's premiere of the Jerusalem Post's Jewsweek Podcast, Israeli journalist Zvika Klein interviews Eric Fingerhut about the relationship between the North American Jewish community and Israel. To hear the podcast, click here.