Welcome to NextGen of the Jewish Federation of Western Massachusetts! NextGen offers young Jewish singles, couples and new area residents a broad range of social, educational and philanthropic opportunities as a means to enhance leadership development and the commitment and connection to the Federation and the Jewish community.
Current NextGen co-chairs Lianne Zana and Max Rubin are excited and ready to get to know you!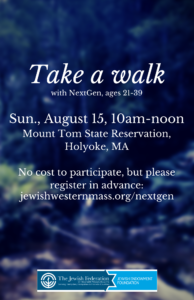 Next upcoming event: Sunday, August 15, 10am-noon
All local community members ages 21-39 are invited to join us for a walk / light hike at Mount Tom Reservation on Sunday, August 15, 2021, from 10am-noon. Please register in the form below so we know to expect you! There is no cost to attend.
You can also contact us by email if you have any questions, at ngorenstein@jewishwesternmass.org.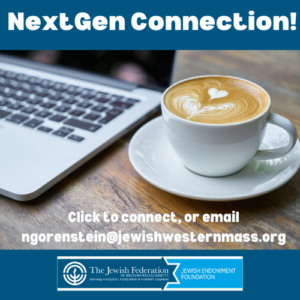 Connect with us any time!
Interested in connecting? Contact Nora Gorenstein at (413) 737-4313, or by email. Let's find a time to get together (virtually): email ngorenstein@jewishwesternmass.org or click here to fill out this quick form.