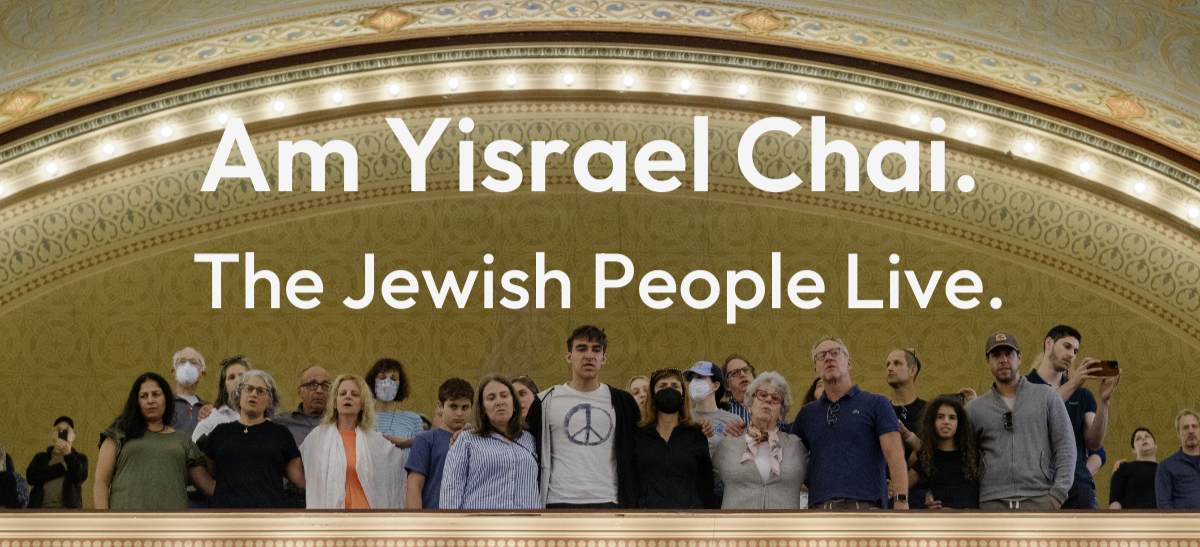 When collective action is needed, Jewish Federations are there.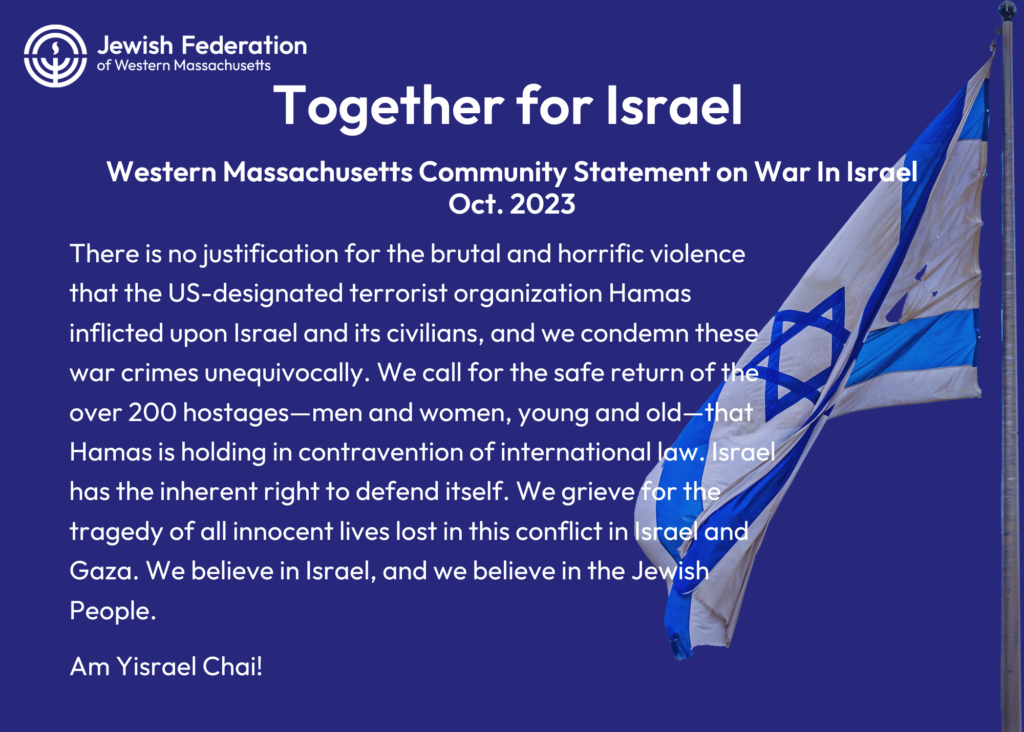 Thank you to all who signed our statement of support!
The Wellness House and our providers condemn the terrorist acts of Hamas and support the Jewish people's right to exist in the state of Israel and ask for a compassionate response to Jewish students to stay protected on college campuses at this time.
Amy Mager, Clinical Director
Never Another Pogrom, Never Again.
Rabbi Kevin Hale, Sofer Stam-Torah Scribe
Richard Alpert, President & Rabbi Jeremy Master
Jodi Falk, Executive Director
Israel must win against Hamas. We must win the war of public opinion. Our culture is at stake.
Eric Naimark, Payment Services Inc.
I call on everyone to pray that G-d protect the holy soldiers of Israel, and all citizens of Israel and Jews around the world. May G-d bring the hostages to freedom quickly.
Rabbi Chaim Kosofsky
Rabbi Noach Kosofsky & Carol Engelson, President
Ronda Parish, PC, Law Office of Ronda G Parish, PC
Jeremy Powers, Owner, Law Office of Jeremy B. Powers
Jake Marmer, Head of School, Lander ~ Grinspoon Academy
David Gonzalez, President
Susan Halpern, Vice President Development
Robyn Newhouse, President
We believe in Israel, and we believe in the Jewish People. Israel has the inherent right to defend itself. We support Israel's vital need to restore security while maintaining its commitment to Jewish values and the sanctity of life. We call for the safe return of all hostages being held by Hamas, a known terrorist group.
Leonid Milshteyn, Executive Director
There is no justification for the violence inflicted by Hamas upon Israel and its people, and we condemn these acts unequivocally. We grieve for the tragic loss of all innocent lives in this conflict.In these trying times, our support for Israel remains resolute. We believe in its resilience and enduring commitment to peace and security. Am Yisrael Chai!
Leonid Milshteyn, Executive Director
Hon. Eric Lesser, Former MA State Senator
I and all the members of our synagogue are in full support of the State of Israel and hope that peace will come soon.
Joanne Saltman,
I disagree with the premise of any equivalence between the innocent lives lost in Israel and in Gaza. Also the number of innocent people and Gaza is grossly overstated in as much as much of the society of all ages and walks of life is devoted to and celebrates the depraved murder in the most horrible ways of our fellow Jews.
Rabbi Shlomo Yaffe
Any sense of moral equivalence in the slightest way really needs to be rejected and I am just concerned that there may be some sense of e moral equivalence in those words. However, in the interest of community, unity and the great importance of standing together as a community, all of us, shoulder to shoulder I signed this with that sentiment uppermost in my mind and the minds of my community.
Rabbi Shlomo Yaffe
We hope for minimal civilian casualties for those Palestinians not supporting Hamas.
Sandra Mackler, Co-President
Am Yisrael Chai.
Cara Lavender, Owner, Bread by Cara
We are signing and also on record adding the important sentiment that "We call upon Israel to abide by Geneva Conventions and protect Gaza civilians as it pursues its just goal of eradicating Hamas." Thank you!
Rabbi Riqi Kosovske
Jennifer Greene, Co-Chair
We stand with Israel!
Aaron Saunders, State Representative, 7th Hampden District
Molly Parr, Rachel Achmad, Marcy Mekler
Dawn Nay, Jennifer Belden, Jessica Kelly
Aimee Bouchard, Sandra Alton, Rosaline F. Barron
End terrorism! End all hate! I pray for a world where there will be nothing but peace for all human beings.
Matthew Price
Rabbi Yafa Chase, Stanley Stroh, Michale Minsky
Am Yisrael Chai!
Robbert Naimark
Micah Schneider, Susan Firestone, Leah Finch
Sara Petro, Michael Minsky, Amy Guindon-Bourget
Claudia Mejia Haffner, Steven Haffner, Jodi Falk
Paz Cohen, Diane & Jeff Kontoff
Sam Price, Susan Halpern, Lavy Kosofsky
Susan Price, Andrea & Doug Plotkin
Greg Schwartz, Robert Chasen, Joseph Carvalho
Dan Garfield, Jessica Karr, Barbara Naimark
Michelle Weiner, Elise Barber, Larry Naimark
Am Yisrael Chai!!
Heath Kalb
We pray for the welfare of all, but my heart is full of sadness and grief that we can not come together in this country US. To grieve the horrific loss of children elderly men and women who suffered such a tragic end in Israel.
Gary Newcomb
Benjamin Tansky, Joshua Vogel, Mitchell Naimark
William Olejarz, Sheri Cartun, Lawrence Rubin
Julia Young, Josh Knox, Brian Weiner
Anya Griffith, Peter Steinberg, Andrea Fox
Bruce Herzberg, Waverly Weinberg, Corrie Trattner
Am Yisrael Chai!
Sue & Stan Polansky
Bring ALL the hostages home NOW!
Moshe Weidenfeld
Henia Lewin, Richard Goldrick, Jessica Schmaelzle
Am Yisrael Chai!
Lori Asulin
The loss of such innocent lives, especially infants and children is a barbaric act that cannot ever be forgotten or forgiven!
Maureen Weeks
Am Yisrael Chai!
Rabbi Yakov Wolff
Am Yisrael Chai!
Mindy Hall
Israel has a right to defend itself. Israel has a right to exist. Israel has a right to the media telling the truth.
Adena Falk
The actions by the Terrorist group, Hamas, against Israel on October 7, was genocide. I stand with Israel!
Kathy Black
We are davening every day at the ohel minyan for peace.
Miryam Kabakov
Praying for the people of Israel!🙏🙏🙏
Cynthia Powers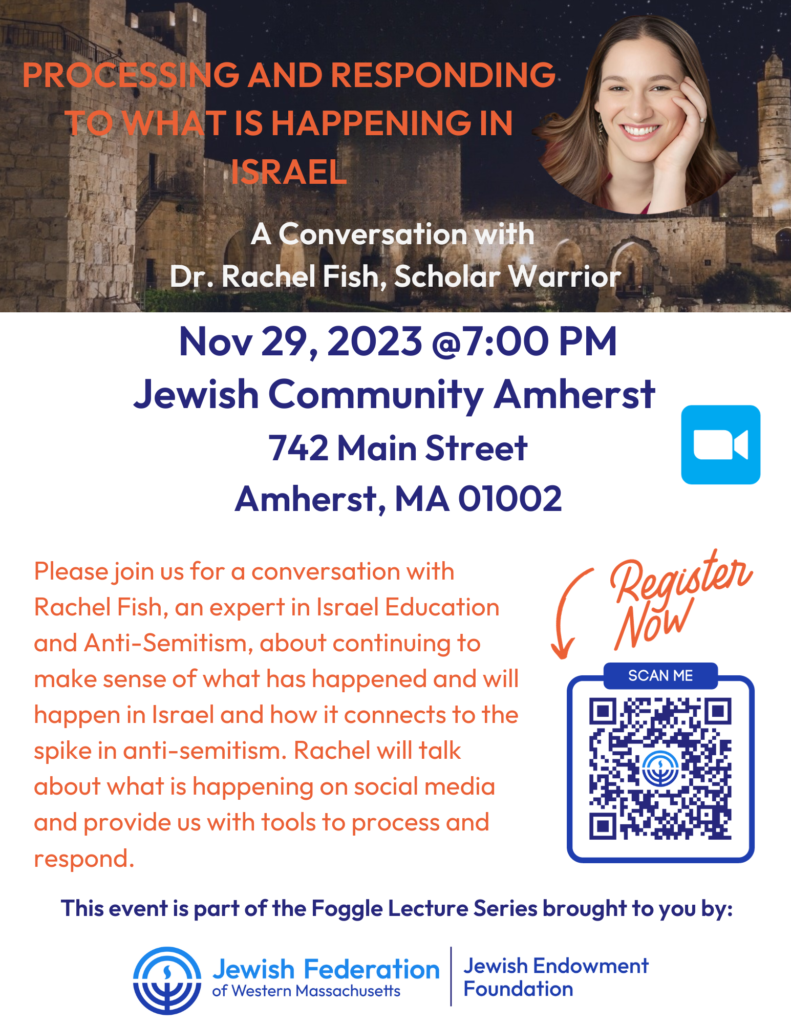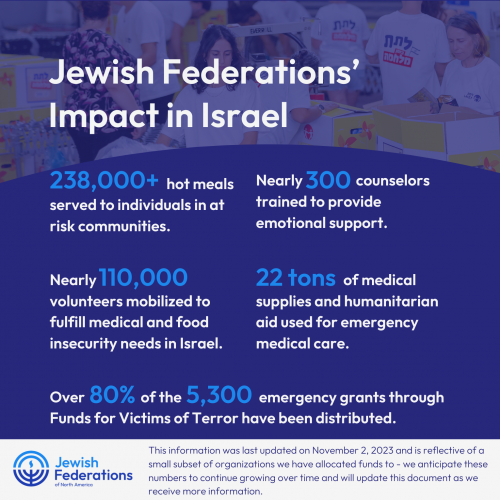 Opinion Pieces From Our Community
Archive: Updates from Jewish Federations of North America
Hamas
Hamas is an Iranian-backed Palestinian terrorist organization that controls the Gaza Strip and openly seeks the destruction of Israel. Since 2005, Hamas and other terrorist groups in Gaza have launched over 20,000 rockets and mortars at Israel, carried out more than one hundred suicide bombings, and dug dozens of terror tunnels into Israeli communities—all at the expense of the people of Gaza.
Why Does Hamas Fire Rockets into Israel?