Join Federation, community members, and Jewish organizations to support our community's needs!
This Fall, our community will come together for the Jewish Federation of Western Massachusetts' Ride to Provide 2023, a family-friendly bike ride fundraiser to do good that goes everywhere. Ride to Provide was created by Rabbi Saul Perlmutter of UMass Hillel and ran from 2007 to 2016 through UMass Hillel, which invited Federation to take ownership and expand the event. Federation's Ride to Provide  2023 will bring together community members and Jewish organizations such as day schools, synagogues, and student groups to help meet the needs of Federation members and its network of nonprofit partners. In addition to multiple bike route options, a 5K walk/run, and a NEW option to participate as a Virtual Rider, there will be a post-Ride celebration that will include food, music, a presentation, and opportunities for participants to come together and connect with other organizations.
Join us for a day full of fun, exercise, and community!
Sunday, October 15, 2023
First ride starts at 9:00 am
UMass Hillel

388 N. Pleasant Street

Amherst, MA 01002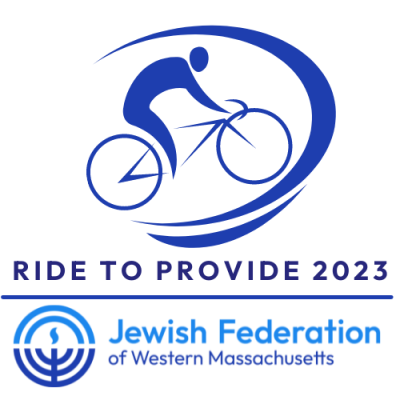 PARTICIPATING IN FEDERATION'S RIDE TO PROVIDE 2023
Registration deadline is October 8,  2023.
Students: $18
 Individuals/Virtual Riders: $54
Families: $150
We now have early bird discounts for those who register between now and September 23!
Students: EBSTUDENT2023
Individual or Virtual participants: EBINDIVIDUAL2023
Family: EBFAMILY2023
Performance t-shirt and lunch included in registration. Additional t-shirts available for purchase. Bike jerseys will be available to purchase or earn (those who raise $500 or more). Thirty percent of funds raised by teams of five or more will go to their selected beneficiary organization.