Dear Friend,
Yesterday marked the 74th anniversary of the founding of the modern state of Israel, a holiday celebrated in Israel and in Jewish communities worldwide as Yom Ha'atzmaut, or Independence Day. We celebrated here in Western Massachusetts last Sunday with an outdoor community festival hosted by the Springfield JCC in partnership with our Federation and Sinai Temple, Temple Beth El, and Congregation B'nai Torah.
It gives us such joy to be together, and it was a pleasure to spend time with the many people of all ages who attended this event! We even met new families from across the community, and were able to enjoy delicious kosher food from local kosher caterer Zev Attias under the supervision of the Massachusetts Kosher Commission.
We can't wait to share all of the exciting and meaningful plans in motion for the year ahead–and if you have suggestions or ideas to add, please reach out at any time!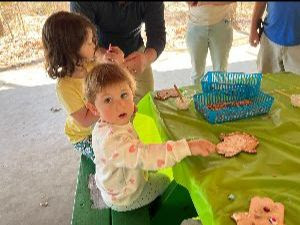 We look forward to seeing you at future events!
Shabbat shalom,

Nora Gorenstein
Chief Executive Officer