Dear Friend,
I'm very excited to share with you that we have already reached 47% of this year's Annual Campaign goal! With your help, we can do even more to support urgent and ongoing needs throughout the year.

We have a fantastic, limited time opportunity to double your impact right now (before the end of May)! Just click here to make your gift and it will be MATCHED; together, we can increase our impact here in Western Massachusetts to sustain essential services, Jewish education, cultural events, and more, while also supporting Jews in need all over the world.
Last week, it was my honor to attend the Life & Legacy Annual Conference here in downtown Springfield, celebrating the impact of legacy giving through Jewish organizations around the country. We had wonderful representation from our Jewish Federation, including three staff and two board members, and all of us were deeply moved by the difference that this national program has made, from its beginnings here with the Harold Grinspoon Foundation and our Jewish Endowment Foundation in 2008. THANK YOU to our many community members whose commitment will live on in perpetuity. If you'd like to know more about Create a Jewish Legacy in Western Massachusetts, please reach out any time!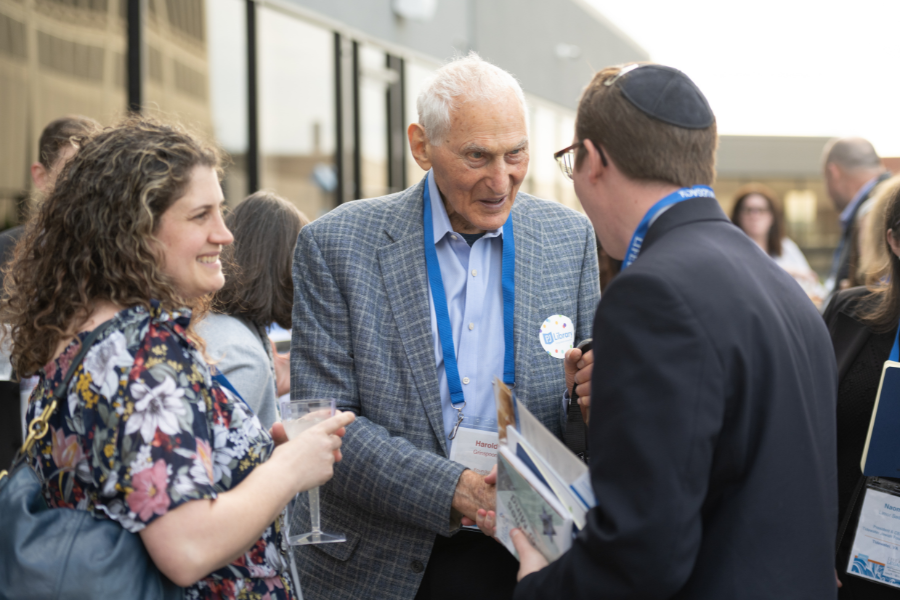 Later this month, join Jewish Federations on Tuesday, May 30 at 1 pm ET for an open, interactive conversation about investing in LGBTQ+ Jews and their loved ones' mental health and wellbeing in Jewish spaces. Jewish communal professionals and lay leaders will come away with a deeper understanding of the mental health issues and needs of the LGBTQ+ Jewish community. LGBTQ Jews, their loved ones, and professionals who serve them will gain knowledge of resources available to them and feel empowered to engage with those resources. Register here.
I hope you will join us at 2pm on Sunday, June 4 for a special LIVE reading of original works from The Braid's emerging artists, performed by professional actors. For information about more upcoming events and opportunities, check out our Community Calendar!
Updates and reminders from our national network:
This past week was, thankfully, much quieter in Israel. A ceasefire that went into effect after Shabbat has held, putting an end to five days of violence—including more than 1,200 rockets launched at Israel—fomented by Palestinian Islamic Jihad. The conflict resulted in the deaths of more than 35 people, most of whom were Palestinians. Jewish Federations and our partners provided support through The Jewish Agency for Israel's Victims of Terror Fund to 20 victims of terror and to the families of those killed. For more on Federations' help, click here.
On Wednesday, Jewish Federations joined other major Jewish organizations from around the country and around the world to urge the United Nations to adopt the International Holocaust Remembrance Association (IHRA) definition of antisemitism. To read the letter, click here. At the same time, Jewish Federations are also advocating for the White House to use the same definition in its emerging national strategy to combat antisemitism in America. Jewish Federations have been working directly with the White House to advance multiple priority issue areas for inclusion in the plan, which will have more than 200 policy plans and recommendations.
The City of Kyiv has publicly recognized the role of Jewish Federations in saving lives and helping the Ukrainian people during the ongoing war with Russia. On the "Avenue of International Aid" that the city has built in Independence Square, seven sakura (Japanese cherry) trees have been planted to recognize the seven countries that have been at the forefront of relief efforts in Ukraine: the USA, Canada, Lithuania, Israel, Great Britain, Poland and Germany.  The center tree honors Israel, with a plaque that carries the names and logos of the Jewish Federations of North America and of the Israel Trauma Coalition. A QR code will link to an explanation of Jewish Federations' activities in Ukraine. For more, click here.
Also on Wednesday, Jewish Federations cosponsored the US Department of Agriculture's first-ever Jewish American Heritage Month Celebration. The event highlighted the contributions of the Jewish community to agriculture and to the fight against hunger. The event followed President Biden's celebration of Jewish history and culture at the White House on Tuesday night, where Board Chair Julie Platt headed a delegation of Jewish Federation leaders (and her son, Ben, performed.)
Shabbat shalom,