Dear Friend,
We are thrilled to once again join together with our network of Jewish Federations of North America to invite local Jewish adults ages 20-25 to apply for the Jewish Changemakers Fellowship. Over the course of a six-week online training, participants will meet inspiring professionals and peers in a fellowship designed to expand their network, hone their leadership skills, and jumpstart their career. They will leave with a clear path to making a difference in their community. The Spring session runs from Monday, May 15-Friday, June 23. For more information, visit jewishchangemakers.org.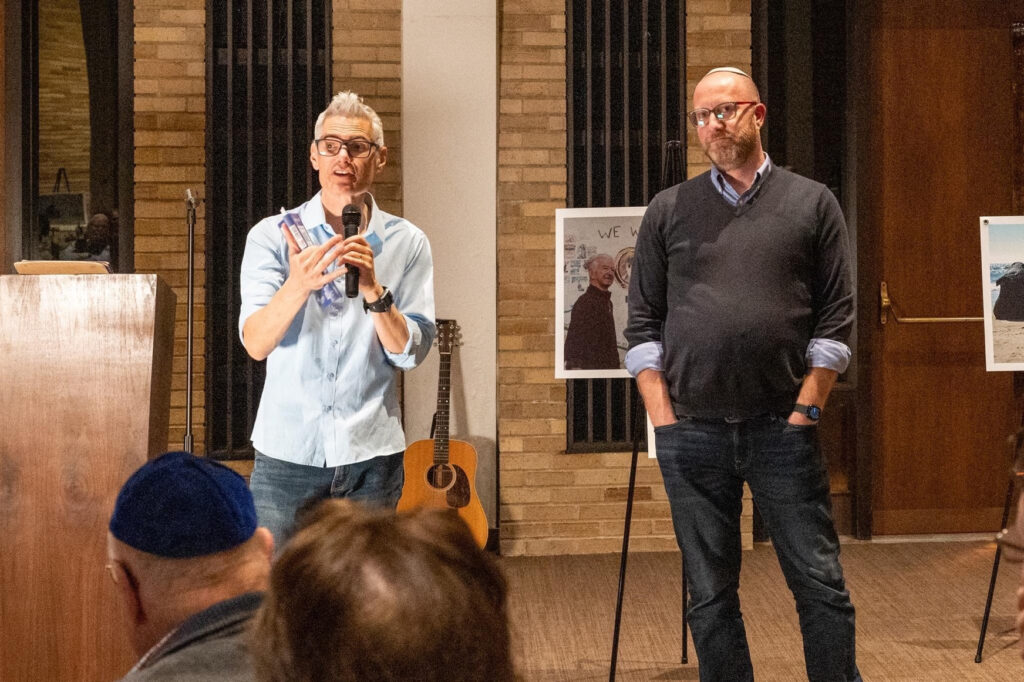 This past Tuesday, our community came together to celebrate Yom Ha'atzmaut with comedians Joel Chasnoff and Benji Lovitt, featuring their stand-up comedy plus stories from their book, Only In Israel. The program was very well-attended, and was free to participants thanks to generous support from the Harold Grinspoon Foundation, the Anna P. Housen Fund for Israel and the Fred & Ruth Weiss Fund for Israel of the Jewish Endowment Foundation of the Jewish Federation of Western Massachusetts, Temple Beth El, Sinai Temple, the Springfield JCC, Geoff & Jane Berman, Ben & Adena Falk, Bill & Susan Firestone, Stanley & Candy Glazer, Marc & Susan Goldman, Robyn Newhouse, Stan & Sue Polansky, and Diane Troderman.
For information about more upcoming events and opportunities, check out our Community Calendar!
Updates and reminders from our national network:
On March 29, while reporting in Russia, Wall Street Journal reporter Evan Gershkovich, the son of Jewish refugees who escaped the Soviet Union, was arrested by Russian security services and charged with espionage. Join us on Monday, May 8 from 1 to 2 pm ET, as we rally the community in support and launch a communal sign-on letter to Secretary of State Anthony Blinken to let him know that the Jewish community stands with Evan. Speakers will include Jodie Ginsberg, President of the Committee to Protect Journalists, along with leaders from Evan's home state of New Jersey. Click here to register and to sign up for updates.
This week, Jewish Federations brought more than 3,000 Jews from North America and Israel together to celebrate Israel's 75th birthday. At the General Assembly, we heard from a range of Israeli leaders including President Isaac Herzog, and engaged in dialogue on critical issues facing our communities, including opportunities to strengthen ties between North American Jewry and Israel.
During the opening ceremony, President Isaac Herzog introduced a new initiative called Kol Ha'am Voice of the People: The President's Initiative for Worldwide Jewish Dialogue, which will act as a global council to bring diverse Jewish voices together and to foster the next generation of Jewish leaders.
While the conference took place at a time of heightened political tension in Israel, all in all it succeeded in promoting dialogue and creating a supportive, welcoming, and inclusive environment for its participants. We encourage you to read more about the events of the conference here.
Also this week, Senators Jacky Rosen and James Lankford, Co-Chairs of the Bipartisan Congressional Task Force to Combat Antisemitism, introduced the Holocaust Education and Antisemitism Lessons (HEAL) Act in the Senate. The HEAL Act which would require the United States Holocaust Memorial Museum to conduct and submit to Congress a nationwide study of the state of Holocaust education. Jewish Federations are proud to support this bill in both the House and Senate and will advocate for its passage. Click here for more.
The Washington Post published a column this week that highlighted the work of Jewish Federations' Center on Holocaust Survivor Care and Institute on Aging and Trauma, which provides person-centered, trauma-informed (PCTI) care for Holocaust survivors and other older adults with a history of trauma The article discusses the challenges facing Holocaust survivors, many of whom live in poverty, and our work advocating for increased funding for the Holocaust Survivors Assistance Program (HSAP) to meet their changing needs.
Shabbat shalom,