Dear Friend,
I am truly delighted to share with all of you that thanks to the success of our 2022 Annual Campaign, and the achievement of our fundraising goal of $750,000, the strength and impact of the Jewish Federation of Western Massachusetts and our network of constituent agencies continues to grow, increasing from the previous year's total of $725,000. In the weeks ahead, we will share more about the direct impact of the Annual Campaign, and all that our constituent agencies are able to accomplish with this support!
This year's 2023 Annual Campaign goal remains at $750,000, representing a shift in our focus at the Federation. Rather than continuing to grow the size of just our Annual Campaign funding, we have added four additional campaigns this year which illustrate our areas of funding priority. The Sponsorships Campaign (our Corporate & Professional Partners Program) enables businesses and individuals to receive personalized benefits while directly supporting the work of our Federation and directing funding wherever it is needed. By making sponsorships a key priority, we are better able to support our direct programs and operational needs while increasing the visibility of our work, and also supporting local businesses.
For those community members who are interested in supporting specific areas of our Federation mission, we have added supplemental giving campaigns in three areas: community security, essential supplies for local individuals in need, and emergency services in Israel through Magen David Adom. There are now more ways than ever to contribute and be part of this work, and I hope that you will join us in the ways that are meaningful to you! To learn more, send me an email any time or reach out to Donor Impact Officer Bobby Naimark. THANK YOU to the thousands of community members who make a difference today and every day through your contributions of time, energy, care, and financial contributions. We appreciate your partnership as we do good that goes everywhere!
Coming soon (next Tuesday evening), our community will celebrate Yom Ha'atzmaut with comedians Joel Chasnoff and Benji Lovitt, who mix stand-up comedy with favorite stories from their book, Only In Israel, and explain how their relationship with Israel deepened in unexpected ways while writing it. Next Friday night, we have another opportunity to celebrate with Congregation B'nai Torah and enjoy a delicious dinner. For more information about these and other upcoming events, check out our Community Calendar!
On a more somber note, this year's commemoration of Yom Hashoah v'Hagvurah was marked by three local events and strong turnout in support of the vibrancy of the Jewish people and our commitment to remember and act to prevent past atrocities of the Holocaust from ever being repeated. We as a community and as individuals are committed to standing together and taking action against hate. Thank you to everyone who helped make these events possible, and of course thank you to everyone who took part. Below, please see just one image of the afternoon event in Belchertown, which featured strong community support rallying against recent acts of antisemitism. Thank you to featured speaker (and beloved Federation Board member) Henny Lewin for her words of wisdom, and to Jewish Community of Amherst Rabbi Ben Weiner for his wise leadership in these challenging circumstances.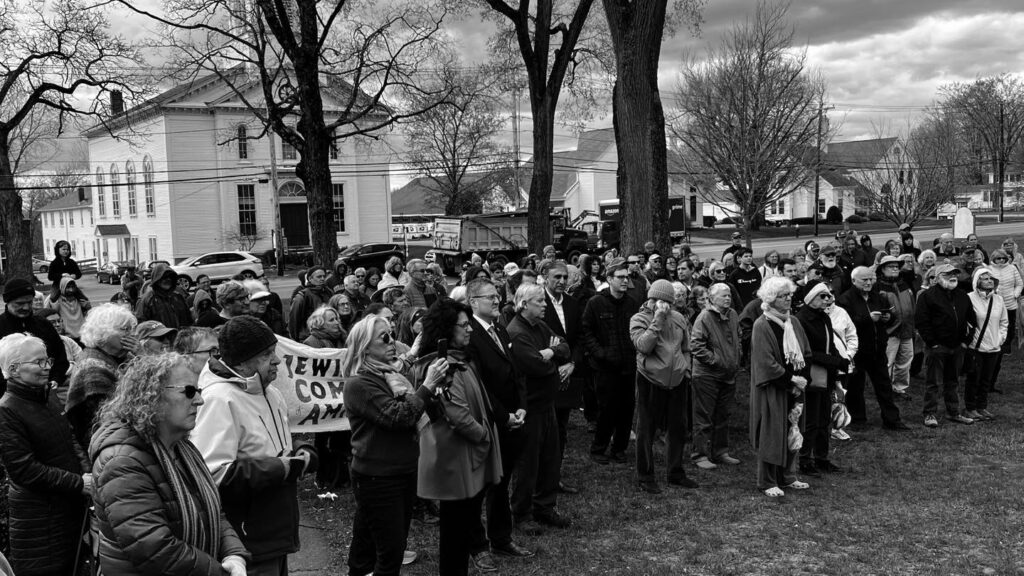 Please know that you can always reach out about concerns and issues so that we can support you and all those affected: we should not stay silent or stand by when there is a community here to support us. Let us lift each other up!
Thanks to the leadership and generosity of past Federation President Suze Goldman, the Tuesday evening Yom Hashoah community event hosted by Congregation B'nai Torah was preceded by a special dinner for local Holocaust survivors and their families; a moving and impactful tribute and experience. The evening's program was also made possible thanks to the support of the Zachor Fund of the Jewish Endowment Foundation of the Jewish Federation of Western Massachusetts.
Updates and reminders from our national network:
Jewish Federations of North America are excited to kick off the Israel at 75 General Assembly this Sunday night and discuss the issues of greatest importance to our communities. Read more about our system's incredible history of supporting the Jewish State here. The co-chairs, Jeff Schoenfeld and Shawna Goodman Sone, published a stirring eJP op-ed this week about the crucial importance of coming to Israel at this time. Follow along on social media by tracking the hashtags #GeneralAssembly and #IsraelAt75, and stream Monday's Yom Hazikaron event hosted by Masa here.
This past Tuesday was Yom HaShoah, Holocaust Memorial Day. Shelley Rood Wernick, Managing Director of the Center on Holocaust Survivor Care and Institute on Aging & Trauma, addressed the Knesset Immigration committee. She shared the ways in which the Jewish community serves Holocaust survivors, including the critical work performed by Federations and our human service agencies to fulfill the fast-growing model of person-centered, trauma-informed care (PCTI). 
Finally, Speaker of the House Kevin McCarthy has just introduced the Limit, Save, Grow Act of 2023, the first move House Republican "counteroffer" to the White House position of passing a clean debt limit bill. Although the bill as introduced will not become law, we want you to be aware of the key provisions related to Jewish Federations and our agencies' work. Since these negotiations are likely to continue into the summer, we will keep you updated as it becomes clearer how any legislation will impact our community. You can find our detailed analysis here.
Shabbat shalom,