Dear Friend,
I'm dreaming of a vision for the future, and I hope you will share it! This week's Torah portion (Miketz), features Joseph's dream interpretation as a major theme. Today we focus on how we can actively make our dreams possible–and we will!
The number one dream I hear from community members is about collaboration and cooperation, a strong Western Massachusetts Jewish community aligned and working together toward a shared vision.
We are here together to make this dream a reality!
So far we have engaged more than 138 donors to the 2021 Annual Campaign who did not give last year, in addition to the hundreds who are renewing or increasing their commitment. Thousands of community members have read our emails, engaged through social media, and participated in hundreds of events.
Now, we are coming together in person for a unique public community program sponsored by 8 of our wonderful local Jewish organizations. Tomorrow night's Hanukkah Festival of (Laser) Light is an example of the incredible work we do as a community when we come together toward our shared goals. Join us after Shabbat at 6:30pm, Saturday, Dec. 4, for a Havdalah and Hanukkah celebration like no other, and let our light shine brightly.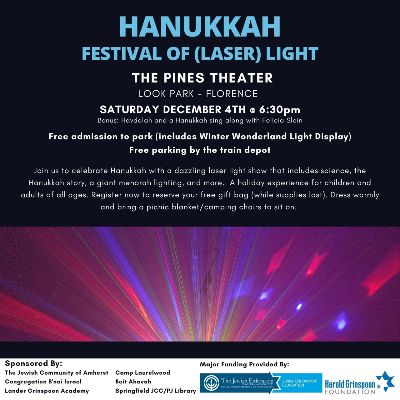 I am always happy to hear from you, so please reach out at any time.
Shabbat Shalom,