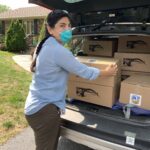 Claudia Mejia-Haffner was featured on Friday, July 17, 2020, for Women's Philanthropy Virtual Coffee Hour: PJ Library Connects the Pioneer Valley.
Former PJ Library Western Massachusetts Coordinator Claudia Mejia-Haffner joined us for an inside look at how women are transforming hardship and supporting each other during quarantine. Claudia was the program professional for PJ Library Western Massachusetts, which is sponsored by the Jewish Federation of Western Massachusetts in partnership with the Harold Grinspoon Foundation and local donors. PJ Library Western Massachusetts offers opportunities for connection and programs for families across Hampden, Hampshire, and Franklin counties, in partnership with local Jewish agencies and synagogues.

PJ Library, an international program of the Harold Grinspoon Foundation, supports families raising Jewish children by providing a free, monthly, age-appropriate Jewish children's book to every registered child from birth through 13 years old, funded by donors and partner agencies in local communities.