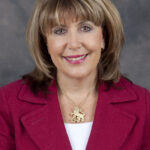 Ann Baidack Pava was featured on Sunday, Nov. 1 as part of the Past Women Presidents of the Jewish Federation of Western Massachusetts virtual program and luncheon, and as the guest speaker for Women's Philanthropy Virtual Coffee Hour on Friday, Nov. 6, 2020, sharing her perspective on life, leadership, and philanthropy in the Jewish world.

Among her many accomplishments, Ann is a former president of the Jewish Federation of Western Massachusetts, and an outstanding Jewish leader and philanthropist both locally and nationally.
During Ann Pava's term from 2003-2006 she focused on coming together as a community where everyone's point of view is valuable and strong opinions should be treated with love and care because strong opinions demonstrate commitment and caring. One lesson she shared for future Jewish leaders is to apologize sincerely when we make mistakes, ask for forgiveness and a way to move forward, and then act on our good intentions. As a community leader, it is important to have your own vision but also listen to what others say about it, because someone else may have an even better idea. Ann's leadership modeled teamwork and the success that coming from building a team that includes strong lay leaders and strong staff professionals: Because no one leads alone.