Dear Friend,
We've had an incredible response to the new Dignity Grows program! Thank you so much to everyone who has already expressed interest in hosting a packing party, sponsoring the program, or contributing to help purchase the hygiene supplies we are distributing those in need across our community.
As we continue to do the work behind the scenes every day to ensure that Jewish education is widely available without barriers to access, basic needs are met for all, and we work together with regional and national partners to ensure strength and security for people of all faiths, THANK YOU to all of you, and especially our local community partners as we go from strength to strength, even in times of distress.
There are many ways for each of us to contribute and ensure that we can sustain not just the causes we know and care about, but also the needs that have yet to arise. I hope that you will join us in supporting this year's Annual Campaign, and any of our supplemental campaigns that feel meaningful to you.
Agency teams are now open for your registration for Ride to Provide 2023! I hope you will take a few moments to register to participate and support not just the organization of your choice, but the full range of partners from across our community! This event brings together families, individuals, and organizations from across Western Massachusetts (and our partners in Israel and overseas) to raise money for the many needs of our community and partner organizations. Your support is crucial, and we look forward to your participation in any capacity!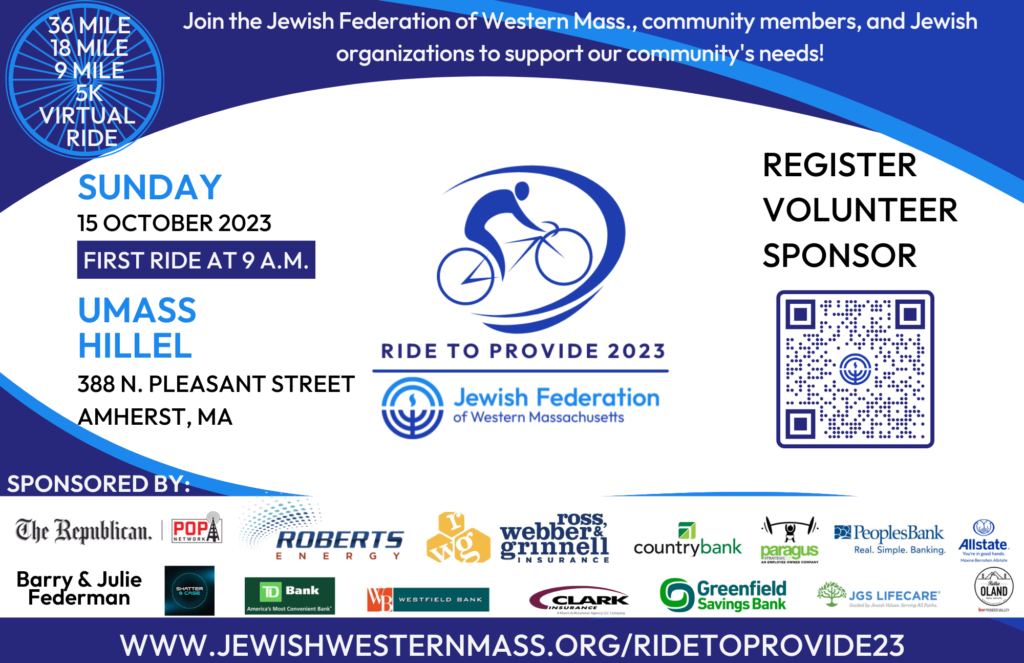 Updates from Jewish Federations of North America:
Last Monday, the Israeli government passed the first component of its plan to overhaul the judiciary, one that deprives the Supreme Court of its power to strike down governmental decisions that it deems to be "unreasonable." In the wake of the law's passage, Moody's warned of continuing, serious "negative consequences" for the Israeli economy, noting that more than 80% of new Israeli startups chose to register overseas since the start of this year, compared to just 20% last year.
The circumstances under which the vote took place were particularly disappointing because on Sunday, Jewish Federations sent an open letter, cosigned by multiple major Jewish organizations, to Prime Minister Netanyahu (who had just been released from the hospital after emergency cardiac surgery) and to Opposition Leader Lapid, to urge that both sides resume earnest, good-faith negotiations under the auspices of President Isaac Herzog.
For the JFNA message from the eve of the vote, click here. For the statement issued after the law's passage, click here. For a recording of the webinar that we held to discuss these issues and next steps, click here.
Last week also marked the 33rd anniversary of the landmark Americans With Disability Act (ADA). Jewish Federations are urging Congress to pass the bipartisan National Apprenticeship Act (H.R. 2851), which would create nearly one million apprenticeship opportunities, including many for those with disabilities, by investing more than $3.8 billion over a five-year period. Click here for our Action Alert.
Shabbat shalom,