Dear Friend,
Shabbat shalom! I am excited to share with you that our Jewish Federation of Western Massachusetts has now completed the process of launching a new, independent organization to continue the work of our longstanding signature food rescue program Rachel's Table, which will continue to be part of our Federation network as a constituent agency, receiving support from our Annual Campaign and other resources. Rachel's Table will continue to serve the Western Massachusetts community six days a week from its new temporary location at Sinai Temple in Springfield, MA. To learn more about Rachel's Table Western Massachusetts, visit www.feedwma.org.
We have had many changes this year, and it is finally time to launch our new logo and updated branding, and to officially launch our new Dignity Grows program with a Packing Party on July 21st, 2023! Federation's Dignity Grows program provides free hygiene products to neighbors in need while honoring the recipient's dignity. The July 21st official kick-off event is a packing party where volunteers will put together individual kits each with a month's worth of hygiene products, to be distributed through the Amherst Survival Center. We have also partnered with The Grey House in Springfield and will be announcing additional partners in the coming months. To learn more about volunteering, partnering, or making in-kind/cash donations to our Dignity Grows program, please visit jewishwesternmass.org/dignity-grows/.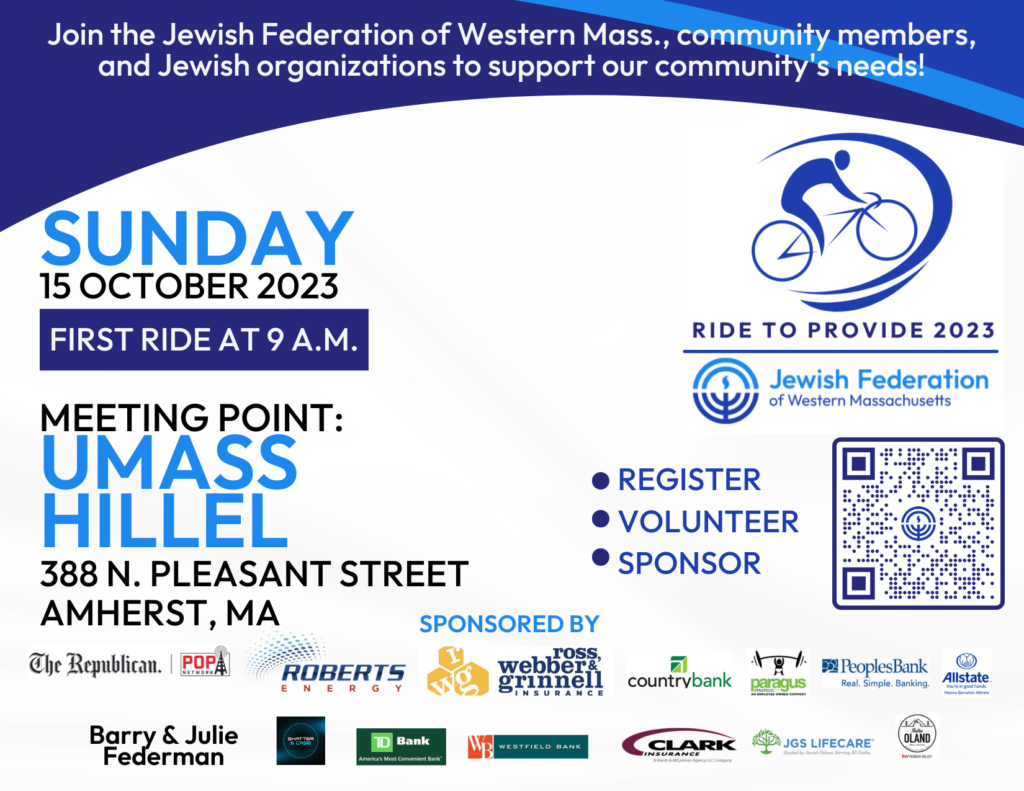 We are also now LIVE with the registration form for another upcoming event: Ride to Provide! This Fall, our community will come together for the Jewish Federation of Massachusetts' Ride to Provide 2023, a family-friendly bike ride fundraiser. Originally created by UMass Hillel, Federation was invited to take ownership and expand Ride to Provide beginning with this year's event. The reimagined event will take place on October 15, 2023 and bring together community members and Jewish organizations such as day schools, synagogues, and student groups to participate in multiple bike route options, a 5K walk/run, and a NEW option to participate as a Virtual Rider. There will also be a post-Ride celebration that will include food, music, presentations, and opportunities for participants to learn more about the participating groups and organizations. To learn more, please visit jewishwesternmass.org/ridetoprovide23/.
Remember, all of this work is possible because of you, Claudia, and the thousands of members of our community who participate in events, receive our email updates, volunteer, and donate to support our essential work! Thank you for being our partners and our supports. We could not have come this far without you!
Updates from our network, the Jewish Federations of North America:
This week, Jewish Federations partnered with UJA-Federation of New York and Met Council to hold a webinar about the commitments that the White House and the US Department of Agriculture are making to ensure food access for all, including for those who have religious dietary needs. For a recording, click here.
Jewish Federations are sending a hearty mazal tov to Robert Grey on becoming the new chair of World ORT. Mr. Grey is a long standing supporter of both World ORT and ORT America. He will lead a new, larger board of 20 supporters from nations in ORT's global network—these countries include Israel, the US, Canada, Great Britain, Switzerland, South Africa, Italy, Mexico, Argentina, France, Russia, and Brazil.
Finally, as Pride Month comes to an end, Nate Looney of our Jewish Education, Diversity, and Inclusion (JEDI) team wrote an op-ed in JTA about his experience as a black, Jewish transgender man at a time when anti-trans legislation is inducing many trans people to leave their home states. To read it, click here.
Wishing you a joyful, restful, and healthy weekend of peace.
Shabbat shalom,