Dear Friend,
This Wednesday, it was my honor to join together with Rachel's Table Director Jodi Falk for a very special announcement as part of our first Jewish Federation of Western Massachusetts Open Meeting, a new type of event which we plan to hold regularly over the course of the year. I am proud to share with you that our Rachel's Table program, which has been a part of the Jewish Federation of Western Massachusetts for the past 30 years, will be growing this summer to become an independent nonprofit separate from our Federation while maintaining a strong connection and partnership. We plan for this transition to take place this summer, after the Bountiful Bowls event celebrating Rachel's Table's 30th anniversary in June. This timing, as requested by Rachel's Table's leadership, will ensure that there will be no interruption in the essential services Rachel's Table provides. Our Federation will continue supporting the seamless operation of the program as we work to ensure that Rachel's Table is prepared for its new role. You can read the announcement here.
In addition to our announcement with Rachel's Table, the Open Meeting included a presentation of the campaigns, programs, and events we are introducing this year! Our Donation page now includes all of our current fundraising campaigns: click here to take a look now. New this year, in addition to the Annual Campaign and our Sponsorship opportunities, we are also raising money for three specific areas of need: Community Security (with a match from national funders), hygiene supplies for those in need as part of our new Dignity Grows program, and a new initiative to purchase an ambulance for Magen David Adom to save lives in Israel! To learn more about these campaigns and programs, or to find out about volunteer opportunities, please contact Donor Impact Officer Bobby Naimark.
We were shocked and appalled to hear of the episodes this week in the Pico neighborhood of Los Angeles, in which worshippers were shot while leaving synagogue services. Thankfully, the police now have the suspect in custody. But the situation reminds us of the paramount importance of safeguarding our institutions. For statements from Jewish Federations of North America and the Jewish Federation of Greater Los Angeles, click here. 
The death toll from the earthquake in Central Asia is approaching 44,000. We were saddened to learn that the leader of Turkey's Jewish community, Saul Cenudioglu, perished along with his wife, Fortuna. May their memories be for a blessing. We and our partners have mounted a large-scale response to address the incomprehensible needs that have arisen in the aftermath of the disaster. Please give here: jfeds.org/earthquakerelief.
Additional updates and reminders from our national network:
On Wednesday, Jewish Federations hosted the 13th Annual Jewish Disability Advocacy Day. The virtual event, which featured appearances by Reps. Debbie Dingell (D-MI) and Brian Fitzpatrick (R-PA), along with inspiring leaders of our community, was organized in partnership with the Religious Action Center of Reform Judaism and the Network of Jewish Human Service Agencies. More than 500 community members registered for this event, in conjunction with which 135 Jewish organizations signed on to a letter to Congress in support of expanding services to people with disabilities. Speak up on this issue — contact your Member of Congress here! For more information on JDAD, click here.
On Thursday, we unveiled important new research on Jewish-Arab shared society work in Israel. Following the eruption of violence in May of 2021, we commissioned NAS Research and Consulting to map and analyze the network of organizations and funders who are working to promote this agenda. You can find the executive summary, full research findings, a recording of Thursday's webinar, and additional curated resources here.
A total of more than 120 Jewish Federations on Thursday sent a letter to Congress to urge federal lawmakers to bear in mind the Jewish community's priorities as they write the nation's 2024 spending bills. These include protecting our Jewish community alongside other vulnerable communities, fighting antisemitism and hate crimes, caring for Holocaust survivors and people with disabilities, bolstering mental health services, boosting the long-term care workforce, and promoting peace and security. Please click here to read the letter.
JEDI is organizing a webinar on Tuesday, March 14 at 5:30 pm ET to educate Jewish communal professionals and lay leaders on how to design programs and communal spaces that address the safety and security needs of the LGBTQ+ community. To register, click here.
To mark the one-year anniversary of Russia's invasion of Ukraine, Federations are also joining with JDC for a "Shabbat for Ukrainian Jews" on Friday, February 24. As we celebrate Shabbat collectively that day, we encourage families to incorporate these reflections on the difficulties still faced by Jews in Ukraine, with guidance for Candle Lighting, Shalom Aleichem, and Hamotzi.
Please consider joining members of our local and national Jewish communities to travel to Israel this April for the Israel at 75 General Assembly, which kicks off on Sunday evening, April 23 and concludes on Wednesday, April 26. We will explore issues facing both Israel and the Diaspora, enjoy uniquely Israeli experiences, and join festive celebrations of Israeli Independence Day. For FAQs and the draft itinerary, click here. To register, click here.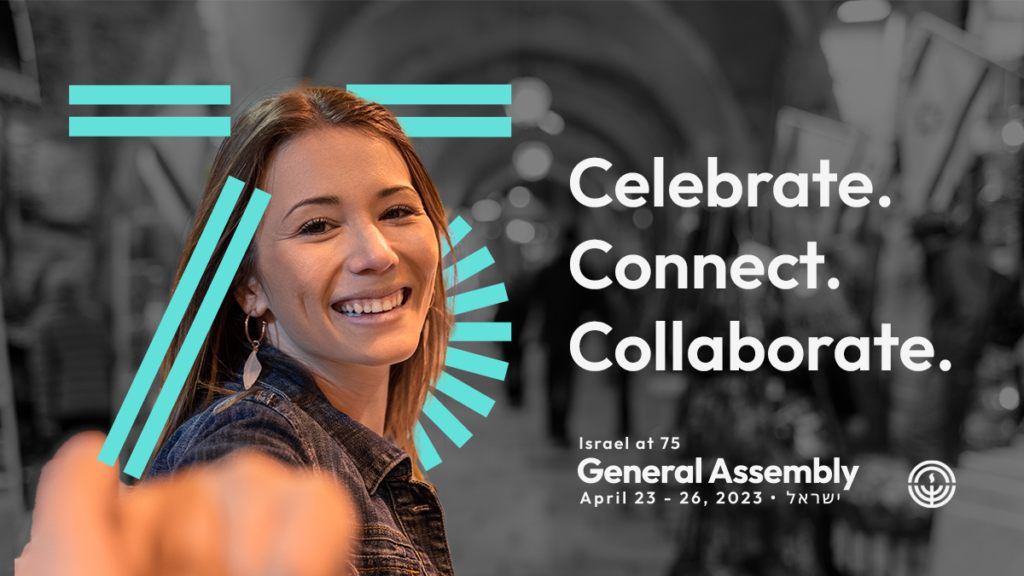 Please also join us for the exciting National Mission that will kick off on Wednesday, April 19 and continue through the General Assembly. The price includes the General Assembly and accommodations throughout both the lead-up to the conference and the conference itself.
Your trip to Israel, whether directly with our Federation or with another organization or group, may be eligible for a grant from our Israel Travel and Mission Funds. You can apply for up to $1,500 per person by clicking here.
Shabbat shalom,