Dear Friend,
We were sickened and outraged to hear of the massacre of worshippers that occurred last Friday evening outside a synagogue in East Jerusalem. The attack, which took place on International Holocaust Memorial Day, killed at least seven people and left three more in critical condition. For more on the victims of the attack, click here.
This Sunday is the second and final date of The Braid's live performance "Remembrance of Things Present." It features empowering stories of Jewish strength from the children and grandchildren of Holocaust survivors. We invite you to register to attend this live reading of inspiring stories. With gratitude for all of our 2022 Annual Campaign donors, we are offering a free ticket to any current donor who would like to attend, and a subsidized ticket for any community member who is not yet a donor. Thank you for making our essential work possible.

Please consider joining members of our local and national Jewish communities members to travel to Israel this April! Early bird rates end on Friday, February 10 for the Israel at 75 General Assembly, which kicks off on Sunday evening, April 23 and concludes on Wednesday, April 26. We will explore issues facing both Israel and the Diaspora, enjoy uniquely Israeli experiences, and join festive celebrations of Israeli Independence Day. For FAQs and the draft itinerary, click here. To register, click here.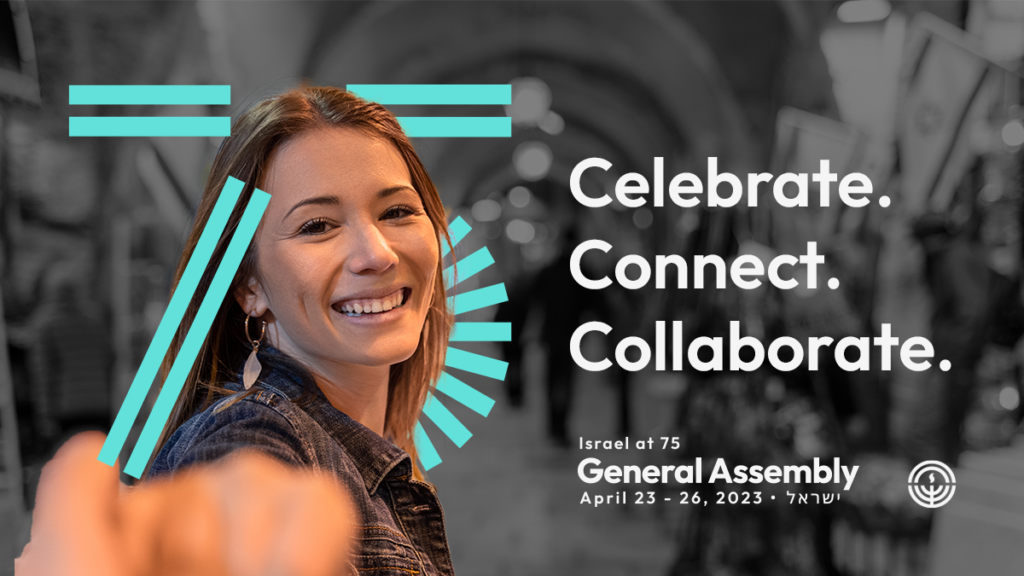 Please also join us for the exciting National Mission that will kick off on Wednesday, April 19 and continue through the General Assembly. The price includes the General Assembly and accommodations throughout both the lead-up to the conference and the conference itself.
Updates and reminders from our national network:
The new Israeli government's potential changes to the judicial system have generated much concern. Click here for the letter sent out today by Julie Platt and Eric Fingerhut with the latest information and links to resources.
Our next two webinars on the Israeli government's agenda are coming up this week and next:
On Thursday, February 9 at 1 pm ET, we will dive into the future of religion and state in Israel and explore which changes may be made under the new government, and the possible consequences of such moves. Register here.
On Thursday, February 16 at 1 pm ET, we will look at the latest research and mapping in the field of shared society between Jewish and Arab citizens of Israel. Register here.
To mark the one-year anniversary of Russia's invasion of Ukraine, Federations are also joining with JDC for a "Shabbat for Ukrainian Jews" on Friday, February 24. As we celebrate Shabbat collectively that day, we encourage families to incorporate these reflections on the difficulties still faced by Jews in Ukraine, with guidance for Candle Lighting, Shalom Aleichem, and Hamotzi.
During last week's Fly-In to Moldova by Jewish Federations and the JDC, there was a webinar on the situation of the Ukrainian refugees in that country. Jewish Federations President and CEO Eric Fingerhut and other leaders shared their experiences meeting both with refugees and with representatives of local Jewish organizations. Click here for more information on what Jewish Federations and the JDC are doing in Moldova to ameliorate the ongoing crisis.
We congratulate Rabbi Isaiah Rothstein, the leader of our JEDI Initiative, on being chosen to serve on the Department of Transportation's newly created Anti-Discrimination Subcommittee. The subcommittee will examine airlines' policies, procedures, and practices to prevent discrimination against passengers based on race, ethnicity, national origin, religion, ancestry, gender, gender identity, and sexual orientation. For the full list of subcommittee members, click here.
Are you wondering about how to get more involved with our local and national Jewish community partners? Please reach out any time to me or to Donor Impact Officer Bobby Naimark to learn more!
Shabbat shalom,