Saturday, Feb. 20, 2021
Women's Philanthropy of the Jewish Federation of Western Massachusetts invites you to a virtual film program beginning at 7pm on Saturday, Feb. 20, 2021. This is a community program and All are welcome to attend.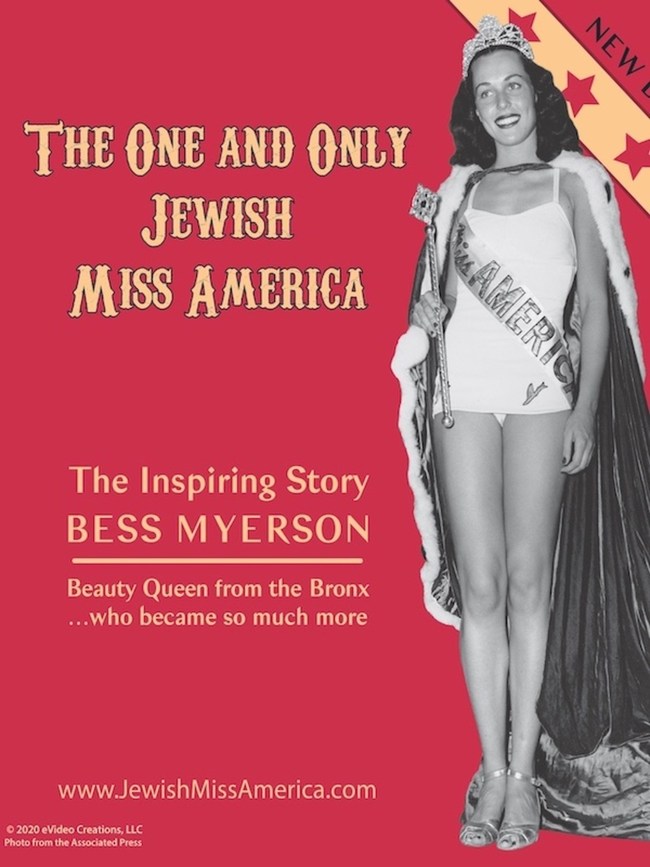 We will view the 51-minute documentary film entitled The One and Only Jewish Miss America, followed by a live discussion with:
David Arond, director of the film
Barra Grant, daughter of Bess Myerson
Professor Brian Levin, director of the Center for the Study of Hate and Extremism and a professor of criminal justice
Professor Emerita Catherine Portuges, Founding Director of the Massachusetts Multicultural Film Festival at the University of Massachusetts Amherst.
Ticket Options: $0 film only / $10 subsidized dinner / $25 dinner donation
After registering, you will receive a confirmation email with the link to the Zoom program.
A delicious boxed kosher dinner prepared by caterer Cheryl Blonder, under the supervision of the Massachusetts Kosher Commission, is available for pickup or local delivery.
If you purchase a dinner ticket, your freshly prepared, ready-to-eat upscale dairy kosher meal will include tuna salad with lemon, carrots and celery; pasta salad with tomatoes, fresh basil, garlic and mozzarella, and garlic lemon vinaigrette; green salad with raspberries, goat cheese, pecans, and lemon honey vinaigrette; croissant; and chocolate mousse. Thanks to a Rekindle Shabbat grant from the Harold Grinspoon Foundation, a subsidized dinner cost of $10 is available. Dinner tickets at the $25 level and any additional donations will help fund future Women's Philanthropy events.
Co-hosted by Women's Philanthropy Co-Chairs Lara Curtis and Henny Lewin, and Development Officer Nora Gorenstein. Questions? Email us any time at ngorenstein@jewishwesternmass.org!