Dear Friend,
As the summer days begin to transition towards autumn, we are filled with anticipation for the approaching High Holiday season. These meaningful days provide us with an opportunity for introspection, renewal, and connection with our traditions and values. At the heart of our communal spirit, the Jewish Federation of Western Massachusetts stands ready to support wherever the needs arise – to do good that goes everywhere. Our mission is not only to unite us during these sacred times but also to foster a sense of togetherness and kehillah (community), year-round. We invite you to engage with us as we embark on this journey of self-discovery, prayer, and reflection.
The High Holidays mark a time of unity and renewal for us all. This is a season when we can come together as a community, share our stories and traditions, and support one another in ways that truly matter. Federation offers a range of opportunities to deepen your involvement in the Jewish community, from engaging events that inform the community about our local and world-wide efforts to initiatives that support those in need within our own community. Your ideas, talents, and passions are vital to shaping our collective future. Let's work hand in hand to create connections that endure, support that strengthens, and capture a sense of purpose that enriches us all.
May this season of a new year (and new school year) inspire us to embrace our community's values, support one another's aspirations and initiatives, and provide all with meaningful Jewish experiences.

Shabbat Shalom,
Bobby Naimark
Donor Impact Officer, JFWM
Registration is open for the Jewish Changemakers Fellowship! The Jewish Changemakers Fellowship engages young Jewish adults ages 20-25 in a six-week, online leadership experience. Participants will meet inspiring professionals and peers in a fellowship designed to expand their networks, hone their leadership skills, and jumpstart their careers. They will leave with a clear path to making a difference in their community. The Fall session begins on Tuesday, October 10. Please help spread the word to your friends and family, and encourage applications through jewishchangemakers.org.
We are looking forward to our very first Ride to Provide bike fundraiser. This event brings together families, individuals, and organizations from across Western Massachusetts (and our partners in Israel and overseas) to raise money for the many needs of our community and partner organizations. Registration is now open but if riding is not your thing, you can also volunteer, sponsor the event, or make a donation to your favorite participating Jewish organization. Your support is crucial, and we look forward to your participation in any capacity!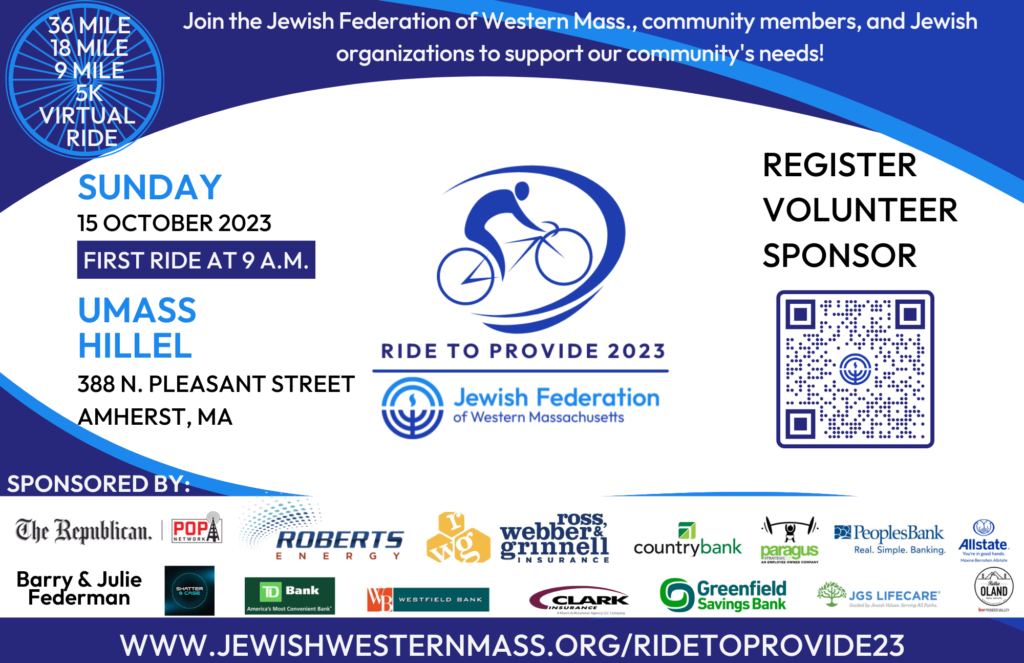 Updates from Jewish Federations of North America:
Yesterday was the 18-month mark since Russia's calamitous invasion of Ukraine. This week, eJP featured our mission to Ukraine, which brought a dozen Jewish leaders from across the continent to tour the war-torn region. The article emphasized the fact that we have collectively raised more than $90 million for humanitarian aid in Ukraine. To read the article, click here. 
A 42-year old Israeli mother of three, Batsheva Nigri, was killed this week in a terror attack in Hebron. The driver of the car, Aryeh Leib Gottlieb, also in his 40s, was seriously wounded. In another attack, an Israeli father and son, Shay Silas Nigreker, 60, and Aviad Nir, 28, were shot to death at a carwash in the northern West Bank town of Huwara. We send deep condolences to the families who lost their loved ones and we pray for a full recovery for Gottlieb.
The death toll from the catastrophic wildfires in Hawaii has risen; it stands at 115 as of today, with hundreds of people still missing. Jewish Federations have already raised $400 thousand so far to date from a total of 120 Federations and Network communities. Click here to donate. 
In the latest episode of our podcast, "The Glue," Eric Fingerhut interviews Yaniv Cohen, a lead negotiator for President Isaac Herzog's team in the talks over judicial reform. Cohen, who is Founder and Chairman of Tachlith (The Israeli Institute for Public Policy), predicts how the controversy may play out and why he remains optimistic despite the extreme polarization that the reforms have brought to the fore. Please share widely, subscribe, and leave a review! You can find the episode here.
In partnership with Jewish Federations, Keshet, and JQ International, the Jewish Fertility Foundation is hosting a virtual peer-to-peer support group for those in the 2SLGBTQIA+ community who are going through a fertility journey. The virtual program will take place on Tuesday, September 5 at 7 pm ET. To learn more and to register, click here. To view the flyer for the program, click here.