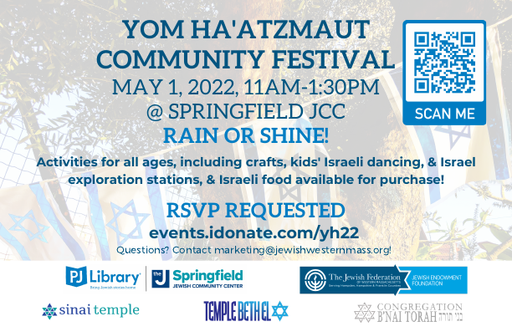 Dear Friend,
This Shabbat, I look forward to celebrating together with family and enjoying challah again with a deeper appreciation after a long Passover. As much as I enjoy Passover and its special traditions, it is a relief to be back in our regular routine and finally enjoying some warmer weather! I hope that you and your family had a meaningful holiday celebration, and are enjoying the beautiful spring weather.
This Sunday, May 1, our community will come together in celebration of Yom Ha'atzmaut (Independence Day), the national day of Israel, commemorating the Israeli Declaration of Independence in 1948. I hope you will join us for great activities for children and adults of all ages, and delicious kosher meals available for purchase, prepared by local kosher caterer Zev Attias under the supervision of the Massachusetts Kosher Commission. There is also a virtual event in the morning from Temple Beth El, which you can read about and register for via the same link: Registration is free, requested but not required, and you can pre-purchase meals via the registration link or at the event on May 1.
We would love to see you for this and other upcoming events; all are welcome!
Shabbat shalom,