Dear Friend,
I hope that your week has been sweet and meaningful, whether you were celebrating Passover, Easter, Ramadan, Patriot's Day, or other occasions in your life! As we conclude the celebration of Passover, the next two days are traditionally marked by religious observance similar to Shabbat, and in addition this year the end of Passover falls directly on Shabbat as well, so our Federation office will be closed.
If you have not yet had your fill of Passover celebration, I encourage you to watch the recordings of our Passover Zoom Teach-In events (listed in this email above and below), and our final event which is this afternoon at 4:30pm: a Passover Musical Adventure for young children and their families, hosted by Camp Laurelwood and featuring K'ilu Kit content for Passover, which is sponsored by the Jewish Federation of Western Massachusetts. Please register to attend or to receive the event recording!
Following Passover, we also have some wonderful in-person events to look forward to! You can also view our Community Calendar any time to check out upcoming events:
On Sunday, May 1, our community will come together in celebration of Yom Ha'atzmaut (Independence Day), the national day of Israel, commemorating the Israeli Declaration of Independence in 1948. I hope you will join us for great activities for children and adults of all ages, and delicious kosher meals available for purchase, prepared by local kosher caterer Zev Attias under the supervision of the Massachusetts Kosher Commission. Registration is free, requested but not required, and you can pre-purchase meals via the registration link or at the event on May 1.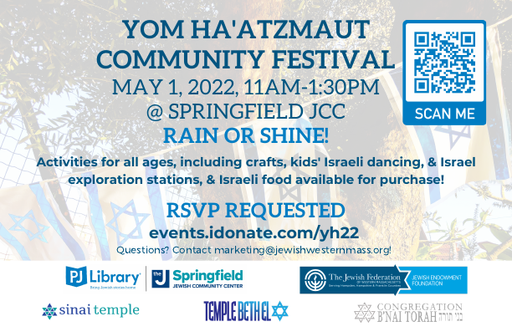 We would love to see you for this and other upcoming events; all are welcome!
Chag sameach and Shabbat shalom,