Dear Friend,
The death toll from the catastrophic 7.8 magnitude earthquake this week near the Turkish-Syrian border has surpassed 20,000. Jewish Federations have activated our emergency protocols and, working with our partners on the ground, are delivering humanitarian aid both to the small Jewish community in the region and to the broader population that has been affected by this disaster. You can make a donation through Jewish Federations of North America by clicking here. For a comprehensive update on our relief efforts, click here. Join Jewish Federations for an exclusive briefing on Monday, February 13 at 2pm ET for a live update on our relief efforts in Turkey.
We are horrified and appalled by the senseless murder of two Israelis, including a child, in a terrorist attack just ahead of Shabbat. Our hearts are with the families of the victims, and we wish a speedy recovery to the injured.
Please consider joining members of our local and national Jewish communities members to travel to Israel this April! TODAY is the last day for early bird rates for the Israel at 75 General Assembly, which kicks off on Sunday evening, April 23 and concludes on Wednesday, April 26. We will explore issues facing both Israel and the Diaspora, enjoy uniquely Israeli experiences, and join festive celebrations of Israeli Independence Day. For FAQs and the draft itinerary, click here. To register, click here.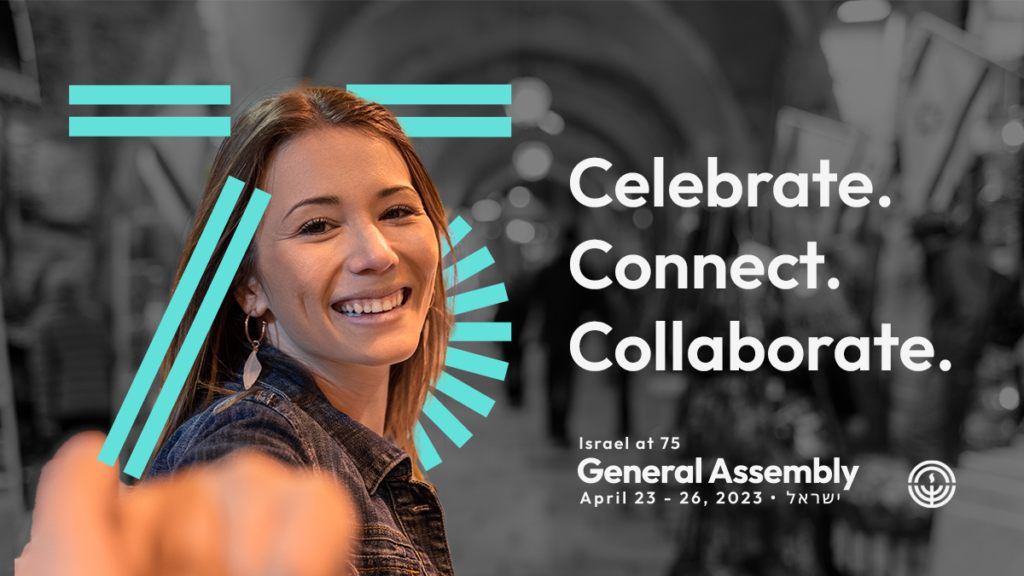 Please also join us for the exciting National Mission that will kick off on Wednesday, April 19 and continue through the General Assembly. The price includes the General Assembly and accommodations throughout both the lead-up to the conference and the conference itself.
Your trip to Israel, whether directly with our Federation or with another organization or group, may be eligible for a grant from our Israel Travel and Mission Funds. You can apply for up to $1,500 per person by clicking here.
Updates and reminders from our national network:
Last Sunday and Monday, Jewish Federations of North America's Board of Trustees held its winter meeting in New York. Our leaders engaged in critical discussions regarding the new Israeli government, the future of the Abraham Accords, our continued advocacy for increased NSGP funding, ongoing talks with Morningstar, and much more. You can read more about the board meeting and the array of issues discussed in Jewish Insider.
The national 2023 Public Policy Priorities were approved at the board meeting.  Please click here to view them.
In 2022, Federations provided over $270 million in funding for Israel and Overseas, including $185.2 million to power the work of our historic partners, the Jewish Agency, JDC, and World ORT. Federations responded powerfully to aid our brothers and sisters in Ukraine – while meeting 100% of the core, unrestricted funding pledged to our partners at the beginning of the year and allocating tens of millions in designated funds.  Read letters from JFNA informing the Jewish Agency, JDC, and World ORT of total funds raised along with letters from the leadership of the Jewish Agency, JDC, and World ORT in response that thank Federations for their generosity and detailing the impact of Federations' gifts.
Yesterday, Jewish Federations partnered with the Israel Democracy Institute (IDI) to sponsor a webinar on the relationship between religion and state in Israel. You can watch a recording here. Click here for an overview on Jewish Federation's Israel Religious Expression Platform (iRep). Our next webinar with IDI will take place on Thursday, February 16 at 1pm ET. We will analyze research and mapping in the field of shared society between Jewish and Arab citizens of Israel. Register here.
At a meeting in New Orleans this week, the American Bar Association (ABA) adopted an amended resolution that urges federal, state, local, territorial, and tribal governments in the United States to condemn antisemitism. Jewish Federations applaud the ABA for passing this resolution, but we are disappointed that it does not include the International Holocaust Remembrance Alliance (IHRA) working definition of antisemitism. Click here for our full statement and reach out to Adam Teitelbaum with any questions.
To mark the one-year anniversary of Russia's invasion of Ukraine, Federations are also joining with JDC for a "Shabbat for Ukrainian Jews" on Friday, February 24. As we celebrate Shabbat collectively that day, we encourage families to incorporate these reflections on the difficulties still faced by Jews in Ukraine, with guidance for Candle Lighting, Shalom Aleichem, and Hamotzi.
Are you wondering about how to get more involved with our local and national Jewish community partners? Please reach out any time to me or to Donor Impact Officer Bobby Naimark to learn more!
Shabbat shalom,