Dear Friend,
As we prepare for the 2022 Annual Campaign to officially launch, I am proud to share with you the tremendous impact of our network of partnership, locally here in Hampden, Hampshire, and Franklin counties, and also globally through our overseas partners and allocations from our Annual Campaign.
The Jewish Federation of Western Massachusetts ensures the continuity and well-being of our vibrant Jewish community through education, philanthropy, and strategic planning. Through your meaningful contribution to the Annual Campaign, you enable us to make the world a better place right now and for future generations.
When I imagine the world that I want to leave behind for my children, I also think back to my grandparents, the generations that came before, and their dreams for the future. Like my grandparents, I recognize the challenges that we have yet to overcome as a society, but also the great opportunities available to us that our great-grandparents could not have imagined. How much more will we accomplish in the years and decades ahead?
We are stronger together, and that is why I am proud of our Federation's work toward strengthening our Jewish community and–with your help–providing support where it is needed most.
On Sunday at 10am, there are two wonderful events happening in our community:
In Longmeadow, our Federation's Rachel's Table program will celebrate the steps we take every day to address hunger in our local community. Please join us to OUTRUN HUNGER together!
In South Deerfield, our friends at Schoen Books and the Jewish Historical Society of Western Massachusetts are hosting a Book Sale for Tzedakah. There will be Judaica and other wonderful books on sale to benefit local Tzedakah projects in our community. To find out more about the sale you can call (413) 665-0066 or check out our Community Calendar.
Next week, our Women's Philanthropy group will join together on Zoom for a "no bake cheese pie" virtual experience, complete with a fabulous recipe to try together. Women's Philanthropy events are open to all who wish to participate; there is no need to be a current donor. What a great opportunity to bring together Jewish tradition, delicious food, and friends! Thank you to our dedicated Women's Philanthropy Co-Chairs Henny Lewin and Chanie Yaffe for this creative event: we hope to see you there!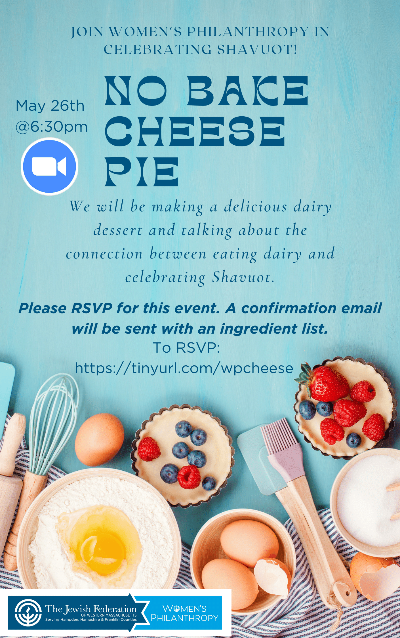 As always, please reach out at any time! Is there an event or resource you would like to suggest? I would love to hear about it!
Shabbat shalom,

Nora Gorenstein
Chief Executive Officer
P.S.- Save the Date for a special ticket code coming soon: Join us June 22 for Fenway Park's Annual Jewish Heritage Celebration!