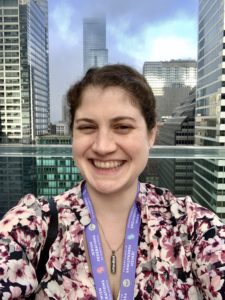 Earlier this week I had the privilege of attending my first Federation-sponsored trip, flying to Chicago for the LOJE25 Legacy Leadership Fly-In. This two-day event was attended by 25 communities across North America under the leadership of the Jewish Federations of North America. The program was sponsored in memory of Rosalind Goodman by her family to continue her legacy of passionate commitment to women's philanthropy and particularly the Lion of Judah sisterhood.
Hearing directly from the inspiring women present at the event who have already established legacy gifts, and the varying ways that each of them was inspired to make that commitment, reminded me of all of you. In the past few weeks since I joined the Jewish Federation of Western Massachusetts, I have had the privilege of speaking with many members of the community about your stories, what makes Western Mass such a special place to live, and why you choose to make our Jewish community a philanthropic priority for your families.
A recurring theme is the experiences, in childhood or even more recently, that sparked a feeling of connection and meaning in your lives. These stories are not only your stories; they are our stories, part of the fabric of our community. As I continue to connect with you, I will share some highlights not only from my experience, but from the stories you share with me.
As we continue to focus on the future, I know that remembering and honoring the past is a key part of our Jewish tradition. I look forward to becoming a part of your stories, and sharing with you my passion and enthusiasm for Western Massachusetts and our Jewish community in particular. I know that together we will do great things! Please don't hesitate to reach out. I would love to hear from you.
L'Shana Tovah U'metukah,
Nora Gorenstein
Development Officer
9/24/2019