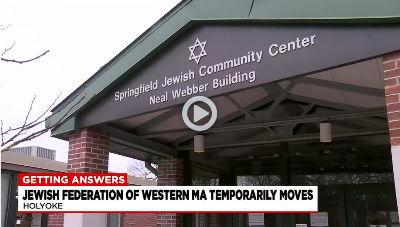 Dear Friend,
The Jewish Federation of Western Massachusetts has been incredibly blessed this week with three enormous reasons to celebrate.
Beginning Monday morning, we moved into our new temporary space at Venture X in Holyoke to ensure that our operations could continue seamlessly while the Springfield JCC works to remediate and reopen in the new year. We have been fortunate to have the strong support of local philanthropist, businessman, and doctor Ned Barowsky who has gone above and beyond in his support of JFWM to ensure that we have the physical facilities to continue our important work: and what a beautiful space it is! Being here in Holyoke is a poignant reminder of the beginnings of the Jewish community here in Western Massachusetts, which was marked earlier this year by the "Holyoke Jewish Homecoming," a celebration of the history of the Jewish community here in Holyoke. I spoke today with Joanne Saltman of Congregation Sons of Zion, which together with Congregation Rodphey Sholom took part in the event. She shared with me how enthusiastic Congregation Sons of Zion is about the future, and shared, "It is wonderful to be president of such a historic congregation." Indeed, we have an incredible legacy to uphold here in Western Massachusetts!
We also have spent time this week preparing for next week's Annual Meeting, to be held at JGS Lifecare in Longmeadow. This is another milestone for us as we will celebrate another year of accomplishments as a Jewish community, in person again for the first time since 2019! We are grateful for the support and leadership of Susan Halpern and her enthusiasm on behalf of JGS Lifecare for supporting JFWM by hosting this momentous occasion.
Last night, we celebrated another highlight of our year as our Rachel's Table Director Jodi Falk was honored by BusinessWest as a Woman of Impact! Jodi shared with me today, "Last night showed me how much Rachel's Table, as a program of the Jewish Federation, means to the community. One of the very powerful speakers of the evening, Latoya Bosworth, later told me that in her Pizza Hut days she gave surplus food to Rachel's Table. The fact that we can represent, together, the Jewish community as a source of positive action locally is a source of deep pride to me. I know that the enactment of Jewish values through both the work of the Federation in general and RT in particular will continue to shine a light against the darkness of anti-semitism and hate." We are proud to recognize Jodi's work and all of the many accomplishments of Rachel's Table, this year and into the future!
Don't miss the Annual Meeting, Thursday, Dec. 15, from 6:30-8pm!
Our upcoming Annual Meeting will be held on Dec. 15 at JGS Lifecare, including a 6:30-7pm "mingle and nosh" which will precede the 7-8pm meeting. Our agenda for the evening includes presentations of highlights from the past year, priorities of the year ahead, recognition of past leadership, and the vote to approve nominees for 2023.
Please take a moment to register now and consider making a contribution to the Annual Campaign when you register. Your support of the 2022 Annual Campaign enables us as a community to meet the needs of the year ahead, and we will be prepared to respond to whatever 2023 may hold in store. All donors to the current 2022 Annual Campaign are members of our Jewish Federation and entitled to vote at the Annual Meeting.
We will enjoy some delicious and creative refreshments, and more importantly, time together as a community. I look forward to seeing you then!
Shabbat shalom,

Nora Gorenstein
Chief Executive Officer