Dear Friend,
This week, we have watched in horror as the Maui wildfires are devastating the communities there, and have claimed the lives of dozens of people. The fires have wiped out the historic island of Lahaina and people are fleeing to Honolulu where Jewish communal organizations will be working to support those in need. At the moment, the Jewish Federations of North America is in touch with the local communities to determine the evolving needs on the ground, which right now look like toiletries, first-aid kits, baby food, and more. Learn more about the needs on the ground in Maui here; to make a donation you can click here.
Locally, we have been very busy with some of our new campaigns and initiatives. Hopefully, you have already seen our summer newsletter, which went out electronically to the community this morning. If you didn't receive it, you can click here to read it and share with your friends and family. On Wednesday, August 16 at 12:30 pm, we'd like to invite you to an open meeting via Zoom! We'll be sharing with the community the latest news at Federation as well as other community news. Click here to register.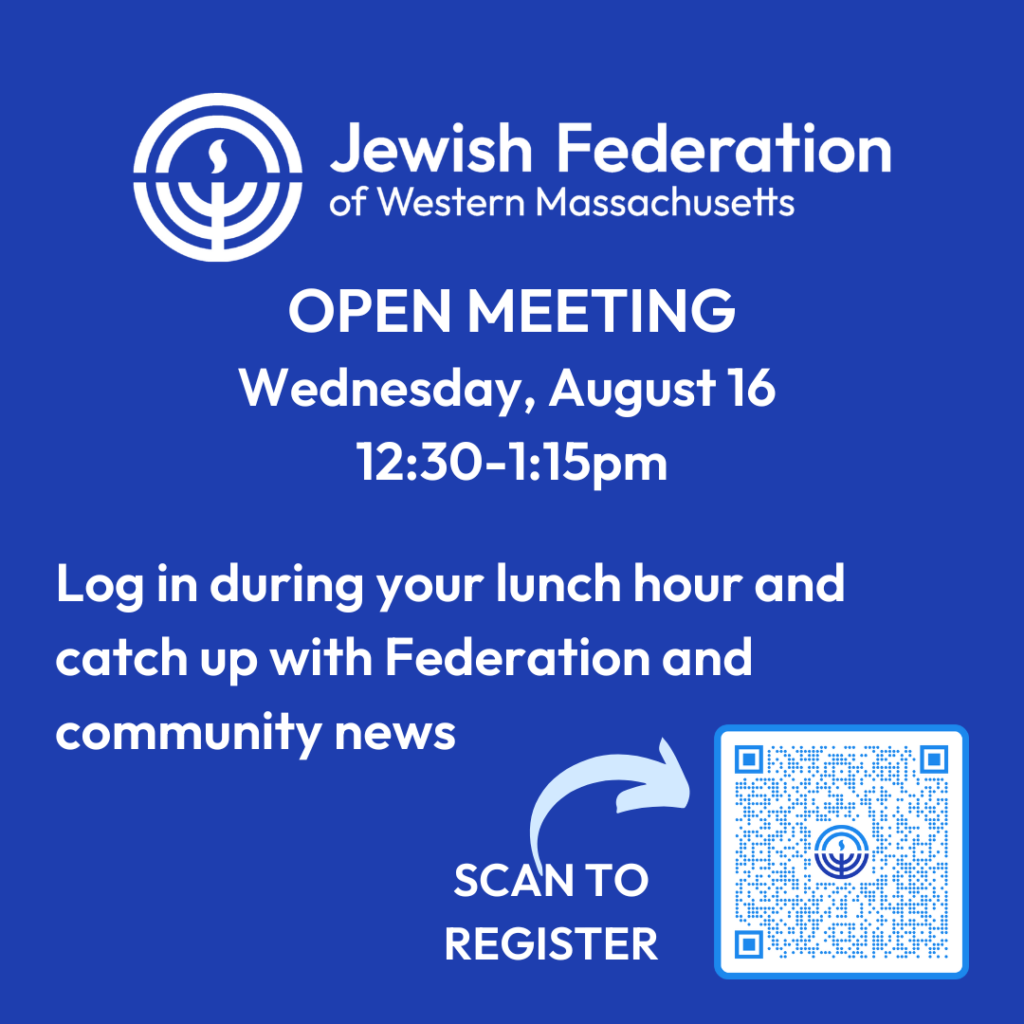 We are also pleased with the momentum of this year's Annual Campaign so THANK YOU for helping us to continue to do good whenever and wherever our help is needed!  
As the summer begins to wind down and come to an end, we'd like to invite families to participate in our second annual family camp weekend at Camp Laurelwood! Our Family Camp Weekend will be this Labor Day weekend, Friday, September 1 to Monday, September 4 and includes a mix of on-campus housing options, Kosher and kid-friendly meals, and spending time with family and (new) friends doing summer camp activities like swimming, archery, arts & crafts, sports, and Shabbat. Generous subsidies are available through the Jewish Endowment Foundation of the Jewish Federation of Western Massachusetts and the Harold Grinspoon Foundation. Please contact us at 413-737-4313 or email me for more information.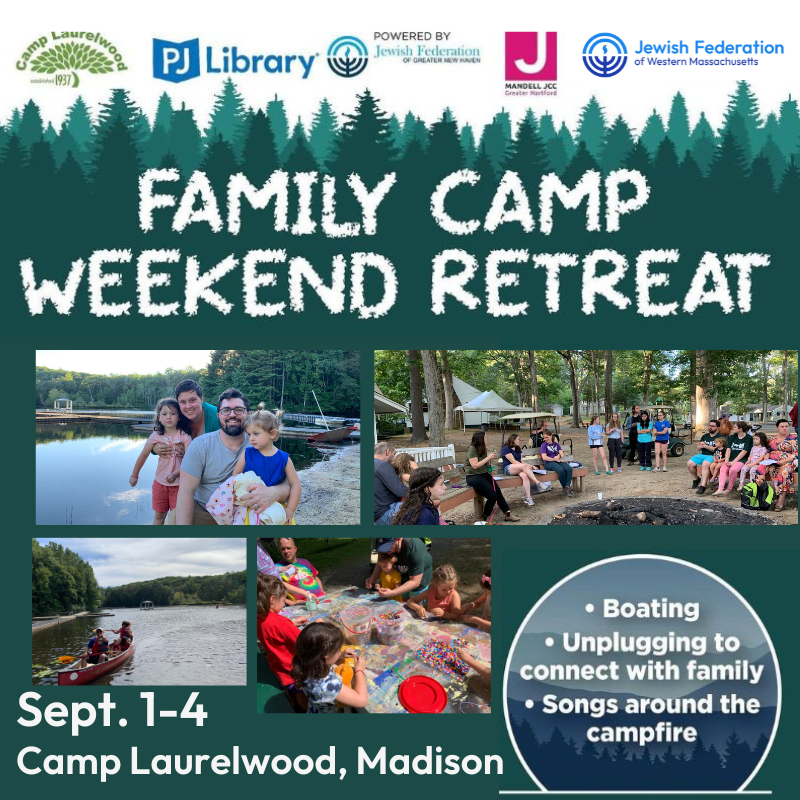 We are also looking forward to the High Holidays (more on that in the coming weeks), and a new fundraising initiative for our kids called The Children's Ambulance Campaign. This campaign is open to all children who are looking to do good deeds with their weekly Tzedakah. What if your child's Tzedakah could help purchase an ambulance that would save lives in Israel? This campaign will allow children to do just that. Furthermore, a community member is willing to match every child's donation up to $1,000!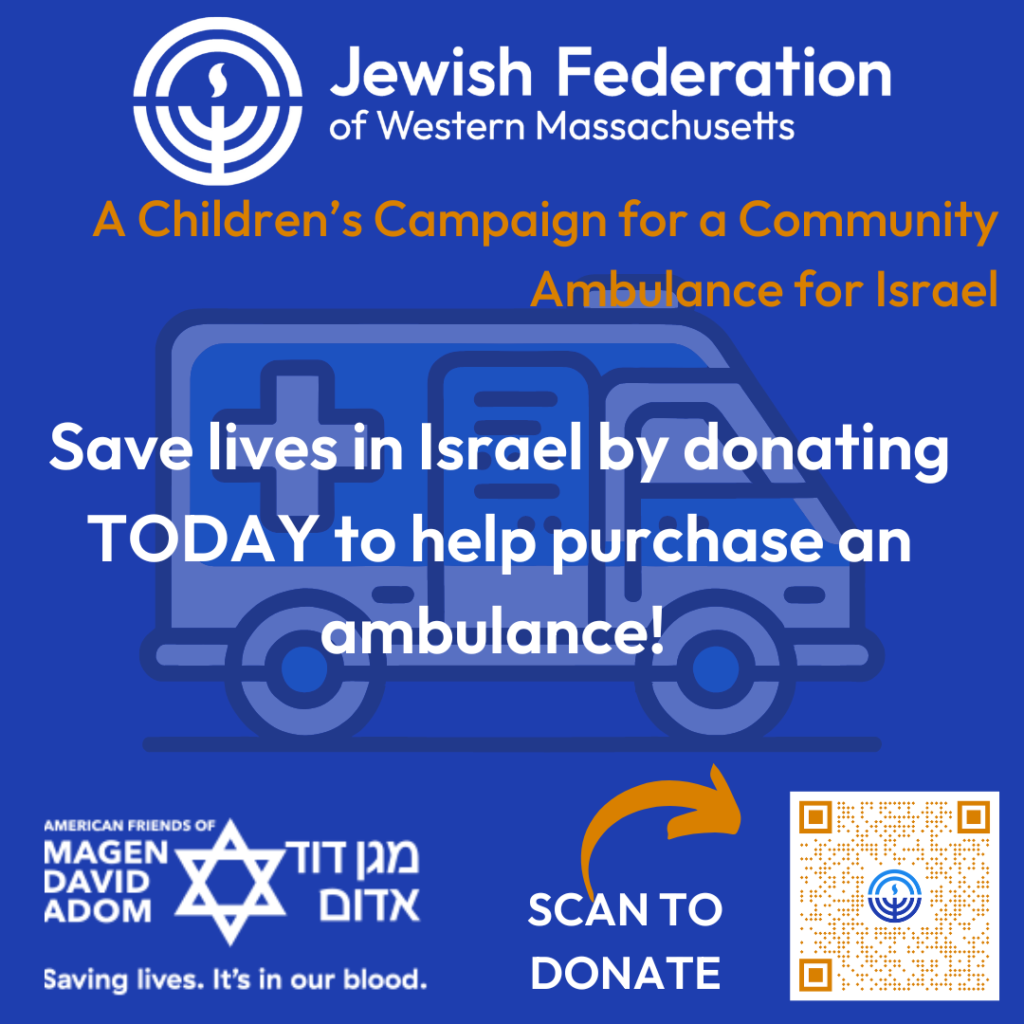 This Fall, we are also excited to continue the work we began this summer with our Women's Philanthropy's Dignity Grows initiative! We are currently planning more packing parties to benefit the Amherst Survival Center and other local organizations. We are always looking for potential hosts and volunteers, as well as donations. If you would like to support this initiative please click here. 
We are also looking forward to our very first Ride to Provide bike fundraiser. As you may know, this event brings together families, individuals, and organizations from across Western Massachusetts (and our partners in Israel and overseas) to raise money for the many needs of our community and partner organizations. Registration is now open but if riding is not your thing, you can also volunteer, sponsor the event, or make a donation to your favorite participating Jewish organization. Your support is crucial, and we look forward to your participation in any capacity!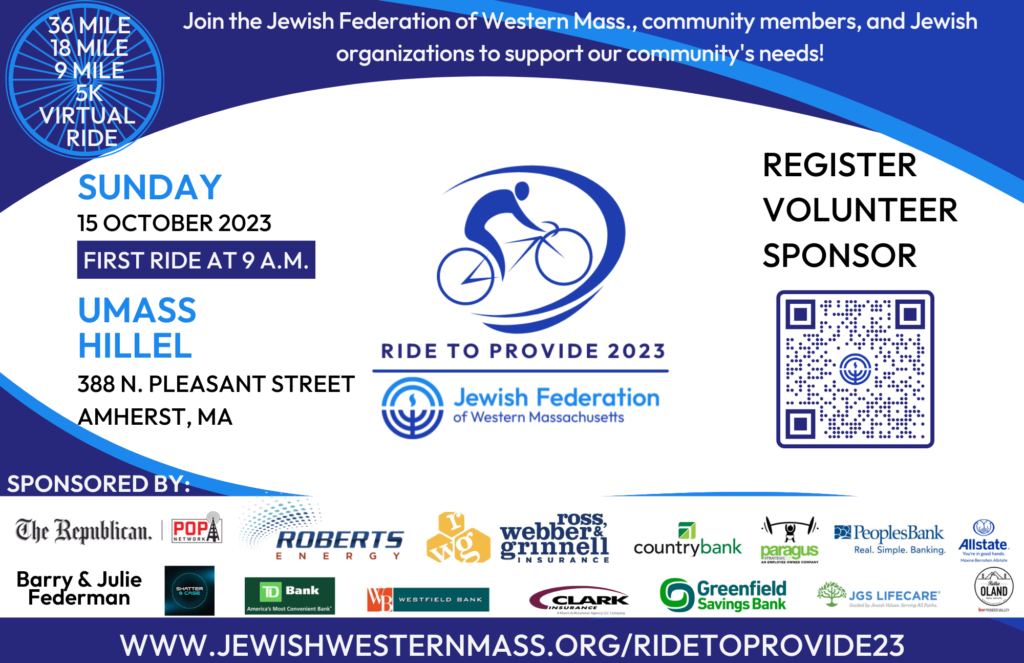 Updates from Jewish Federations of North America:
On Thursday, the State of Israel, together with The Jewish Agency for Israel, completed a secret operation to rescue over 150 Israelis from Gondar, Ethiopia, where violence had broken out between the Ethiopian army and a regional militia. Among those rescued were around 50 Ethiopians eligible to make Aliyah. The Jewish Agency is on the ground and able to respond to emergencies anywhere in the world because of Jewish Federations' core, unrestricted allocations that are funded by annual campaigns.
As we express relief and appreciation at this rescue, we pray for the safety of the community of Ethiopians in Gondar who are still waiting to make Aliyah. Through the support of Jewish Federations, The Jewish Agency and the Struggle to Save Ethiopian Jewry (SSEJ), we continue to provide humanitarian aid to the community in Gondar.
In domestic news, Rep. Kathy Manning (D-NC) and Rep. Chris Smith (R-NJ), who are co-chairs of the House Bipartisan Task Force for Combating Antisemitism, are sending a letter to the Department of Education to urge it to take concrete steps to combat the rising tide of antisemitism on campus. Click here for the list of the Members of the House who have signed on as of August 9 and send an Action Alert to urge your Representative to join the letter (the deadline to sign is this Monday).
We send condolences to Board Chair Julie Platt, as well as to our Board members Amy Bressman and Ellie Bressman Davis, on the passing of Robert Beren z''l, who was Julie and Amy's beloved father and Ellie's beloved grandfather. Robert had a profound impact on Jewish life throughout North America, Israel, and the world through his leadership and philanthropy. To read his obituary in eJP, click here.
Shabbat shalom,